Gold Bullion Sinks to 6-Week Low as Firm US Inflation Sees Markets Adjust to 'Higher for Longer'
Tuesday, 2/14/2023 14:41
GOLD BULLION spiked, fell $20 per ounce, rallied $10 and then dropped to new 6-week lows Tuesday lunchtime in London as new US data said consumer-price inflation in the world's largest economy slowed again in January but held firmer than analysts had expected.
Ahead of the data, gold bullion priced in the Dollar had dropped back towards yesterday's 6-week trough of $1850 per ounce, before spiking to $1870 only to trade unchanged for the week so far at $1858 before falling to a new 1.5-month low beneath $1845.
With consensus forecasts predicting a drop in headline CPI inflation from 6.5% to 6.2% per year, the
Bureau of Labor Statistics
' first estimate of 6.4% showed the slowest increase in the US cost of living since October 2021.
Outside last summer's
spike to 9.1%
however, it would still mark a 4-decade high, sharply above the 21st Century's 2.5% average to date.
So-called 'core' inflation, excluding 'volatile' fuel and food prices, also slowed just one tick on the BLS's new data, dropping to 5.6% per year rather than the 5.5% forecast by most analysts ahead of today's data.
"The data doesn't really change the expectations of a 25-basis point hike at the next meeting," Reuters quotes a US portfolio manager today, but "I do expect a pause to be coming somewhat soon."
Betting on US interest rates, in contrast, has now flipped to seeing the Federal Reserve delaying any reversal of this year's increases until 2024 at the earliest, with the probability that the US central bank will end December at today's rate of 4.75% sinking from 4-in-5 this time last month to 1-in-3 a week ago and now barely 1-in-7 today
according to derivatives exchange the CME
.
Gold bullion priced in Dollars has gone from $1920 to $1875 and now down to $1852 over that time.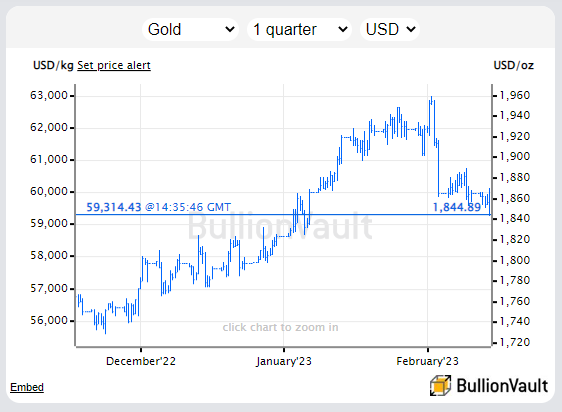 "I expect that ongoing increases will be appropriate," said Fed governor Michelle Bowman to the American Bankers Association Community Banking Conference in Orlando, Florida last night, "and [interest rates]
will need to remain there
for some time to restore price stability."
Those comments echoed her colleague Christopher Waller saying Friday that "it might be a long fight [to defeat inflation], with interest rates
higher for longer
than some are currently expecting."
Major economy borrowing costs rose in the bond market, with 10-year US Treasury yields hitting New Year levels above 3.72% per year.
Rich-world stock markets meantime trimmed their earlier gains while the US Dollar slipped again on the FX market, edging 0.7% below Friday's 6-week high on its trade-weighted index.
Silver bullion meantime extended the drop in gold prices, falling to an 11-week low of $21.65 per ounce, down more than $3 from
the 9-month high set
less than a fortnight ago.