Gold's yearly returns compared with other major US and UK investments
ANNUAL PERFORMANCE of the major asset classes has varied widely over the past 50 years.
But how widely? And how do the annual returns from gold – the best performing investment of the 21st century so far for UK investors, and the best behind only commercial real estate investment trusts in the US – stand in comparison with stocks and shares, bonds, property and cash?
Here, BullionVault's research team have gathered and published the annual investing returns data for the major US and UK asset classes since 1972, the year after the Gold Standard was finally abandoned and the world's currencies began to float freely of each other.
Consumer-price inflation in the United States edged up that year to 3.4% before leaping 1973 and 1974 on the first Middle Eastern oil crisis and on its way to peaking at almost 15% in 1980. Overnight interest rates would then touch 22% as Paul Volcker took over at the Federal Reserve with a mandate to squash the 1970s' runaway cost of living.
The Fed's record-high interest rates first led to a global economic slump, but they laid the ground for a "long boom" in growth, as well as in bond and equity returns, as inflation retreated and interest rates then fell back during the 1980s and '90s.
Two stockmarket crashes, a property and banking slump and then a global pandemic followed after the year 2000. During this period, as our Annual Asset Performance data show, the investment return from gold has come in the top 1 or 2 position eight times for US investors, second only to Commercial Real Estate (10 times) and beating the 21st Century showing so far for non-US equities (7 times).
US equities in contrast didn't show in the top 2 spots anytime between 2000 and 2012, but the S&P500 total returns index has reached those levels 7 times since 2013, the year of gold's steepest price drop since 1981.
US investors meanwhile saw 2 remarkable years ahead of the Covid pandemic, with the 2018 returns to cash in the bank (as tracked by the annual average yield on 3-month T-bills) beating inflation for the first time since 2008 as a record-long unbroken bull run in US equities ended. Then 2019 saw shares, bonds, real estate and commodities all rise in price and all beat US inflation, as did cash in the bank.
That had last happened in 1971.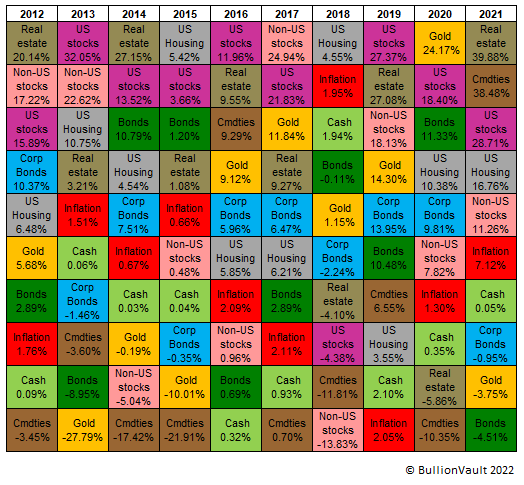 For UK investors (viewed on a more limited range of assets due to poorer availability of consistent data), gold has topped the table 7 times since 2000 and beaten total returns from the FTSE All Share index 12 times.
Gold's annual performance in 2013 sank to the bottom of the table, delivering its heaviest loss to UK investment portfolios in our 50-year series. It then recovered sharply amid the political shocks of 2016 (first the UK's Brexit referendum and then the election of Donald Trump to the White House), stalling in 2017 but topping the table as shares fell in 2018, showing double-digit gains in the last year of the 2010s and then topping BullionVault's UK annual asset performance table again amid the Covid Crisis of 2020.
Note also that, contrary to common thinking, gold doesn't always beat inflation in the cost of living year-to-year. Indeed, priced in British Pounds it lagged the UK's RPI index 24 times between 1972 and 2021.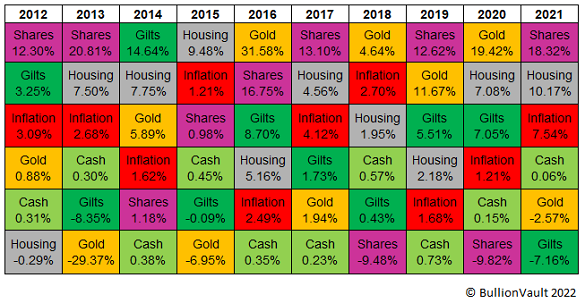 Volatility in gold's annual returns outstrips other assets, as the notes to BullionVault's performance tables show. But the lessons from 2008 and 2020 remain plain.
Diversification counts, and gold really has acted as portfolio insurance when investors needed it most. Making an allocation to bullion should be a prime consideration when you look for help to offset the equity, interest-rate and real-estate risk of a broader, well-balanced investment portfolio.
US annual asset performance comparison 1972-2021
UK annual asset performance comparison 1972-2021
All data are total returns, before costs or taxation (unless specified).
Please note: These tables are published to inform your thinking, not lead it. All information and analysis must be verified elsewhere should you choose to act.
US Dollar asset-class performance, annual returns for 50 years since 1972: Key
| | |
| --- | --- |
| Inflation | US Consumer Price Index, end-year value |
| Cash | 3-month US Treasury bill rate, daily average |
| Bonds | 10-year Treasury bond, yield + capital value |
| Stocks | S&P500 index, capital + dividends |
| Non-US stocks | MSCI EAFE (Europe, Australasia & Far East), capital + dividends |
| Corporate bonds | BofA Merrill Lynch US Corp Master Total Return Index |
| Commercial real estate | FTSE Nareit All REITs total returns |
| Commodities | Reuters-CRB Continuous Commodity Index (CCI) |
| US Housing | S&P/Case-Shiller Home Price Series (no rent or costs) |
| Gold | Last London Gold Fix of the year in USD |
US annual asset performance comparison 1972-2021
Notes on gold's annual performance comparison, US data
Gold topped this table of US asset performance 10 times since 1972, beating US equities (9 times), matching non-US developed world stock markets and coming behind only Real Estate (REITS, 12x);
Gold also came bottom 11 times, worse than any other major asset class, followed by commodities (9 times) and non-US stocks (7x);
Gold's 50-year return (+4,084% gross of costs since the end of 1971) has beaten the cost of living (582%) and all assets except US equities (18,529%), REITs (11,457%) and non-US stocks (6,561%);
Commodities have been the worst-performing asset class over the last 5 decades (+359%) followed by cash (755%) and housing (1,206%);
Gold's worst year was 1981, costing US investors 32%, and then 2013 (-28%). 2008 was the worst year for REITs (-37%), US stocks (-37%) and non-US equities (-43%);
Since 1972, gold rose in all 5 years when US stocks lost 10% or more, averaging 34% gains. So did US Treasury bonds, averaging 9% total returns;
2018 snapped a record 9-year run of gains for US stocks (-4%), beating its 1980s' bull run and matching its 1990s' stretch;
While 2018 was the first year since 1981 that inflation came so high on this comparison, it was the first time since 2008 that returns to cash didn't lag inflation;
Short-term rates beat inflation for 21 years ending 2001; gold lagged CPI consistently from 1994-2001;
The 21st Century so far has seen REITs lead (+1,024%) followed by gold (525%), US equities (391%), corporate bonds (254%) and then housing (175%).
UK Pound asset-class performance, annual returns for 50 years since 1972: Key
| | |
| --- | --- |
| Inflation | UK long-run Retail Price Index (RPI) series |
| Cash | 3-month UK Treasury bill rate, daily average |
| Gilts | 10-year UK government bonds, yield + capital value |
| Shares | FTSE All-Share total returns index |
| Housing | HM Land Registry via ONS, no rent or costs |
| Gold | Last London Gold Fix of the year in GBP |
UK annual asset performance comparison 1972-2021
Notes on gold's annual performance comparison, UK data
Shares have topped this table most often (23 times in 50 years) followed by gold (12); gold came bottom most often (16) followed by shares (10);
Investors in the 5 assets tracked here all lost out to inflation in 1976; cash has topped the table 3 times, housing and government bonds 5 times each;
In the 11 years when shares were the worst-performing asset, gold was the best 7 times;
Gold has also lagged inflation most often (24 times) behind Gilts (20), cash (19, all but 6 of them in an unbroken run since 2009), housing (18) and shares (16);
Gold failed to top this table 25 years running starting in 1980. Cash in the bank beat inflation for 28 years running from 1981;
Since the start of 1972 gold is the 2nd best-performing asset (+7,800%) behind the total return from shares (17,560%) and it is No.1 in the 21st Century to date (+648% versus 231% from shares).
USA Annual Asset Performance 1972-2021
UK Annual Asset Performance 1972-2021