UK Gold Price Below £1500 as ETFs Shrink, 'Record' Pay Growth Leaves Real Wages at 2005 Level
Tuesday, 7/11/2023 14:16
DESPITE the latest outflows from gold-backed ETF trusts funds, the gold price hit a 3-week high for Dollar investors on Tuesday but it held flat in Euros and fell near new 2023 lows for British investors as new UK wage data saw expectations for Western central bank interest rates diverge once again.
With tomorrow's US consumer-price data forecast to show a sharp drop to 3.1% annual inflation – the slowest in 2 years – the Dollar dropped to a 3-month low on the FX market and Washington's borrowing costs retreated below 4.0% on 10-year Treasurys, down 0.25 points from last fall's peak.
Ten-year UK Gilt yields in contrast rose near 4.65% per annum, the highest since 2008, after average wages in the world's 6th largest economy showed record yet still below inflation growth.
Gold priced in the Euro meantime showed a small gain for the week so far at €1759 while the Dollar gold price touched $1938 per Troy ounce.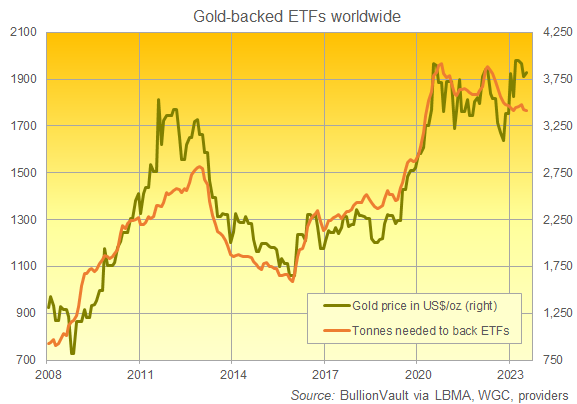 The 5 largest UK-listed
gold ETFs
last month shrank 3.1% in size as shareholders cut their exposure to the precious metal's price.
That outpaced the wider 1.7% liquidation of European-listed gold-backed products and the 1.5% outflows from North American trust funds.
Year-to-date worldwide, gold-backed ETFs shrank 1.9% in size between New Year and last Friday,
data compiled by
the mining industry's World Gold Council says, falling to the smallest since April 2020 but holding unchanged in size yesterday.
'Joining forced' as newspaper editors put it with UK Bank of England boss Andrew Bailey who also spoke at the event, "That means taking responsible decisions on public finances," Hunt went on, "including public sector pay, because more borrowing is itself inflationary."
"Wages are not driving inflation – they are not even keeping up with it."
Basic UK pay, excluding bonuses, rose
7.3% per year on average
in May, the ONS says, the fastest overall pace on its current data series thanks to public-sector pay awards rising towards the pace already seen in the private sector.
But that's still below the 7.9% annual rise in the cost of living reported on the ONS's lowest measure of inflation – the 'harmonized' Consumer Price Index – and it leaves total pay unchanged in real terms since autumn 2005, down by 6.5% from the peak of New Year 2008
"In the context of the last 20 years, UK equities and credit are the cheapest global asset classes we can find," says a Morgan Stanley note published Monday morning.
Tracking current prices against their peak of the last 20 years, Morgan's table puts gold at the top, with US equities close behind.