Gold Price Sinks as Nato Backs UK Over Russian Spy Poisoning, Moscow Hoards Record Reserves
Friday, 3/16/2018 14:30
GOLD PRICES sank on Friday despite yet worsening tensions over the attempted assassination of a former Russian spy in the UK, falling to 2-week lows versus the Dollar following stronger-than-expected US industrial output data.
Moscow is
"overwhelmingly likely"
to have ordered the attack on Russian defector Sergei Skripal and his daughter Yulia with a 'novichok' nerve agent said British foreign secretary Boris Johnson this morning.
The Kremlin maintains it had no involvement, calling the accusations by London – joined yesterday by Nato allies Washington, Paris and Berlin – "shocking and unforgivable".
Latest data say Russia was the heaviest central-bank gold buyer for the sixth year running in 2017, growing its bullion reserves to 1,857 tonnes, just behind China as the sixth largest national holder.
"In late-January, President Vladimir Putin said that the country's gold reserves were looking up," adds the Sputnik website – successor to Russia's state-run news agency RIA Novosti and Voice of Russia radio broadcaster – today.
That level was reached in 2014, rising since to
almost 18% by end-2017
according to data compiled by market-development organization the World Gold Council.
"Russian gold mine production has been steadily growing over the past six years," says a note from Saida Litosh, precious metals manager at analysts Thomson Reuters GFMS, rising 6% in 2017 to "an all-time high of 269.4 tonnes" – putting it behind only China and Australia – "facilitated by...privatisation of state-owned gold mining companies as well as consolidation of smaller gold producers."
Analysis by BullionVault says that since 2013, when the Ukraine crisis first broke – and with Western sanctions starting the following year then
hurting international sales of Russian-mined gold
– Moscow's central bank has bought 70% of the country's domestic mine output.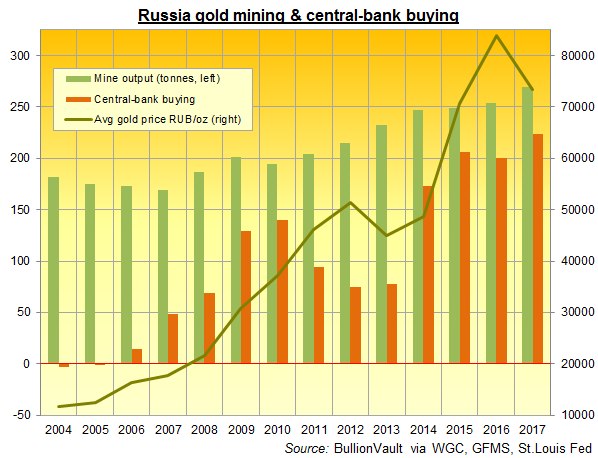 Russia is meantime "preparing to sell $7bn of bonds" into the European debt market today, the FT reports "in an apparent show of defiance at international condemnation of its suspected involvement."
This follows Wednesday's
€750m debt placement
through London by Russia state-owned emergy giant Gazprom.
Dropping to $1311 per ounce on Friday, the gold price fell as the Dollar rose after new data said US industrial output rose 1.1% last month from January, more than 3 times Wall Street's consensus estimate.