Risk, Reward, and the 'Real' Price of Gold
Wednesday, 1/26/2022 09:01
Setting up nicely...
REGULAR READERS
know I take pains not to hype this most precious 'value' asset,
writes Gary Tanashian in his Notes from the Rabbit Hole.
A positive risk vs. reward does not mean run out and go whole hog gold-stock bull right this minute. Risk vs. reward is a condition, but not a timer. The miners have been on a seasonal bounce/rally. But with patience, the sector is setting up to distinguish itself as unique and quite bullish in 2022.
Meanwhile, the bubble is still in force as US stock markets/sectors generally remain intact (for the most part, with some notable exceptions outside of the headliners, as certain table legs get kicked out). But gold's price chart is in a beautiful Cup & Handle structure, as I've shown repeatedly since NFTRH began projecting the handle-making in the summer of 2020.
What's more, gold's 'real' commodity-adjusted price has been declining since the overdone 2020 upside as well. Risk is with commodities (and stocks) and reward – with patience – is with gold and when they leverage a future macro, gold stocks.
Factor in a January Bank of America Global Fund Manager Survey showing trend following managers piling into the cyclical/reflationary/inflationary 'reopening' trades (Banks, Industrials, Commodities, Materials, etc) and absolutely puking Tech, Bonds and defensive Healthcare and you have a recipe for all hands on one side of the boat.
And that side of the boat is NOT gold's side of the boat. The story goes that gold does not like rising interest rates, after all. Nominally, they have been rising across all maturities.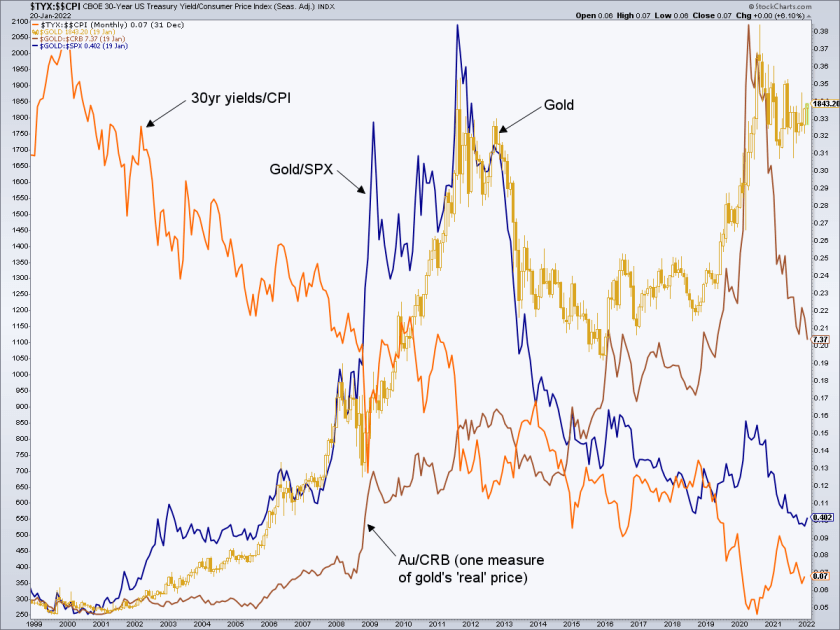 For humorous effect I've added the 30-year Treasury yield as adjusted by the CPI (not even a real measure of inflation, but work with me here) showing the ongoing farce that is real yields, current Fed taper fears and resulting nominal yield rise be damned.
So with CPI-adjusted yields so far depressed, what is needed to send gold on the next leg up? As I've been saying since the party started in mid-2020, stocks and commodities need to top out nominally and/or in relation to gold. That is not yet in play. But it's coming.
Beyond that, draw your own conclusions while realizing there is a present and there is a tomorrow. You may or may not consider this a gold pump piece. But I'll tell you this, it is far better to be boosting gold now than it was in mid-2020. Current risk vs. reward says so.