Gold Jumps as 'Trade War' Hits Stocks, 11-Year Record in Link with Interest Rates
Friday, 3/23/2018 14:09
GOLD PRICES rose sharply against all major currencies on Friday, recovering even last week's 1.5% drop in Japanese Yen terms while stocks and shares fell worldwide as Beijing hit back at Washington with plans for new import tariff rates on US goods arriving in China.
President Trump's new $60 billion tariffs on a raft of Chinese imports to the US may be met with
$3bn of tariffs on 128 US products
, Beijing's state-run Xinhua news agency said, "including pork, wine, and seamless steel tubes."
After Wall Street sank 2.9% on Thursday – its 6th worst day of the last 5 years – the Shanghai stock market today lost almost 3% while Tokyo's Nikkei index lost 4.5% for the day, closing almost one-tenth lower for 2018 so far.
London and Frankfurt fell less steeply, but both held over 4% down from this time last year.
Global equities have now dropped over 8% in US Dollar terms from January's fresh all-time record high on
the MSCI World Index
.
That month's gold spike to $1365 – approaching the highest Dollar prices since early 2014 – stands less than 1.5% above today's spot-market high.
Major government bond prices meantime gave back a little of yesterday's gains on Friday, edging longer-term US interest rates back up to 2.84% on the 10-year Treasury bond.
Following
Wednesday's widely-expected hike
to the Federal Reserve's key overnight rate, any move to "more aggressive tightening late in the year will [only] be because of a growing inflation threat," TheStreet today quotes George Milling-Stanley, gold strategist at fund giant State Street Global Advisors.
"That will continue to leave real rates at low levels and will prove to be positive for gold."
Gold prices typically move in the opposite direction to interest rates, showing an average correlation on a 52-week basis of minus 0.44 since 2003 with inflation-adjusted 5-year US bond yields.
That figure would read +1.0 if they moved in lockstep higher and lower together, or -1.0 if they had moved exactly opposite across the last 15 years.
Over the last 52 weeks however, gold's co-movement with real rates has flipped to a correlation of +0.43 on BullionVault's analysis today – the strongest positive connection since the end of 2006, when US home prices began to turn south, destroying sub-prime mortgage bond investments and –helping spur the global financial crisis of 2007-2012.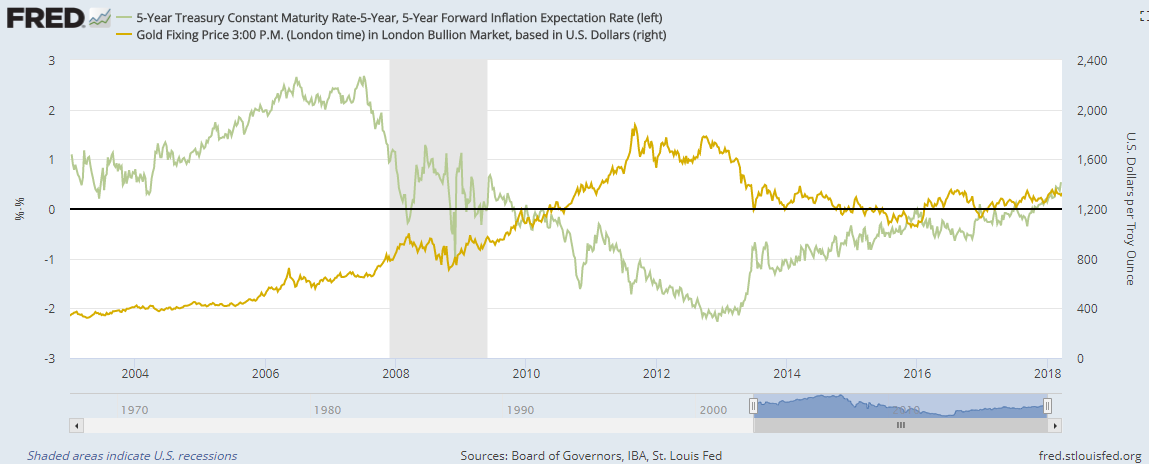 Silver today re-touched Wednesday's 1-week highs above $16.60 per ounce, recovering last week's 1.5% drop to the lowest Friday finish of 2018 so far.
Platinum prices
were more muted, halving last week's 1.5% drop to reach $957 but ceding its crown to gold as the best-performing precious metal of 2018 so far.
Last year's star, palladium has dropped 7.6% since 1 January.
Silver is also down, dropping 2.0% since New Year, while platinum stood 3.1% higher for 2018 to date at lunchtime in London on Friday.
Gold priced in the Dollar had gained 3.4%.
"A trade war will harm both the US and Chinese economies,"
Reuters quotes
Chinese mining giant Shandong Gold's chief analyst Ji Ming.
"Any harm to the US economy will depreciate the Dollar, pushing gold higher."
Gold prices also rose sharply outside the US currency however on Friday, jumping to regain almost all of last week's loss for British investors and trading at the highest since January's peaks in terms of the Euro.
Shanghai gold prices also neared January's highs in the Yuan, closing 1.5% up for the week and holding the premium for gold landed in China – the largest consumer nation – at $8 per ounce above London quotes, just below the typical incentive offered to new imports.