Gold Prices Rise for UK + Euro Investors as Catalan Banks Look for Exit, Hapless May Risks Leadership
Thursday, 10/05/2017 13:54
GOLD PRICES slipped against a rising US Dollar in London trade Thursday, cutting the metal's recent losses in terms of other currencies such as the Euro as political tensions rose in the UK and Spain.
Ahead of Friday's official monthly jobs estimate, the Dollar price of gold held around $1275 per ounce as new data showed claims for jobless benefits rising less than analysts forecast last week.
Gold priced in Euros meantime held €7 per ounce above its floor of the last 8 weeks at €1080 as Spanish prime minister Mariano Rajoy called on Catalonia's leaders not to make a unilateral declaration of independence following last weekend's unofficial, unrecognized and fractious referendum.
Asian equities held flat but the Ibex 35 index of Spanish stocks rallied as 2 lenders said they're preparing to move their head offices from Barcelona.
Germany's Dax index of major stocks stalled just below Wednesday's fresh all-time record high.
"Germany's gold investment market," says a new report from the mining-backed World Gold Council, "has
boomed in the past 10 years
in the face of successive financial crises and loose monetary policy."
Minutes from the European Central Bank's early-
September meeting today showed
the 19-nation committee discussing but not agreeing to start reducing its current €60 billion per month of QE money creation and bond purchases.
Keeping its key commercial-bank deposit rate at minus 0.4%, "the recent volatility of the Euro exchange rate represented a source of uncertainty," policymakers said, with "broad agreement to emphasise the need for...a very substantial degree of monetary accommodation for inflation pressures to build up."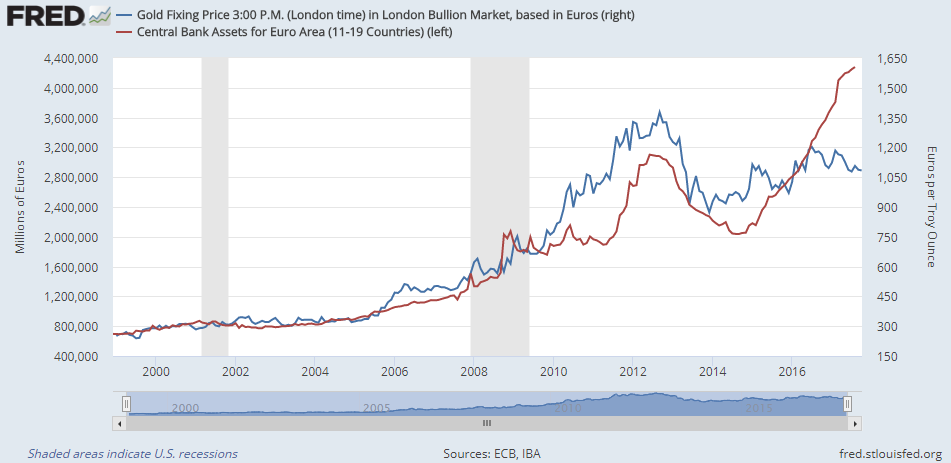 Catalan president Carles Puigdemont said overnight that Spain's
King Felipe is a "mouthpiece"
of the Rajoy administration, "which [has] been catastrophic for Catalonia and deliberately ignore[d] the millions of Catalans who do not think like them."
Rajoy this morning called on Puigdemont to
suspend "as soon as possible"
talks about a declaration of independence – coming tomorrow or Monday – so that "greater evils will be avoided" after civil police attacked voters in last weekend's unofficial and unrecognized referendum.
Shares in Banco Sabadell (BME:SAB) meantime leapt over 5.0% after its board met
to decide where, not if
, it is going to re-locate.