Gold Prices Ease at 2-Year Yen High as Japan Plans Evacuation, N.Korea Prepares for Foundation Day
Tuesday, 9/05/2017 13:58
GOLD PRICES dipped briefly below $1330 per ounce in London trade Tuesday morning, holding near yesterday's spike to 11-month highs as the Dollar weakened again and reports said North Korea is moving an intercontinental missile towards its west coast after firing a 6th test in 2 weeks.
Gold priced in Yen eased back from early Monday's spike to sudden 2-year highs as the Japanese currency recovered on the FX market.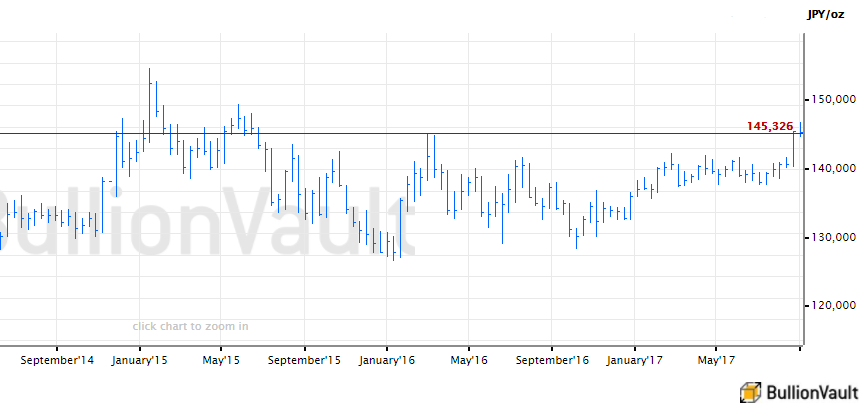 Japan is planning a possible evacuation of 60,000 nationals from neighboring South Korea, said Prime Minister Shinzo Abe – grandson of
Nobusuke Kishi
, deemed a war criminal for his pursuit of Korean nationalists during WW2 – at a meeting Monday.
"After running into resistance on Monday toward $1340," says Swiss refining and finance group MKS Pamp's Asian trading team, "bullion once again tested this level [early Tuesday] following headlines that North Korea were moving ICBM's toward launch sites.
"[Those] headline-driven gains proved to be unsustainable [but] we continue to see interest on dips underneath $1335...Moves below $1330 and $1325 are likely required to flush out any short-term [bullish] positioning that has accumulated so far this week."
European stock markets meantime reversed earlier gains on Tuesday and major government bond prices rose, pushing interest rates down, as the return of New York traders from the long Labor Day weekend approached.
Broad commodity indexes pushed higher for the fourth session running, with US crude oil nearing 2-week highs and base-metal zinc "piercing above the upper band of [a] bullish channel in place since 2008," according to technical analysis from French investment bank Societe Generale.
"Money managers [have an] insatiable appetite for copper," says SocGen in a separate, new positioning report, calling the base metal – now at 3-year highs against the Dollar – "overbought" and "vulnerable to profit taking."
So too, say SocGen's cross-commodity strategists, are nickel, aluminum, heating oil, WTI crude oil, palladium and also Comex gold futures contracts.
"Resistance is at $1337.85 (Nov 2016 high)...and momentum indicators are biased to the upside. [We] remain bullish on gold, targeting the $1350 level."
End of summer in the US will meantime see lawmakers return to Washington, where
a vote on a near $8bn package of aid
for Houston following Hurricane Harvey will take place tomorrow.
President Trump, however, has already said he wants to tie the aid to raising the near-$20 trillion US federal debt ceiling – due to expire and risk a default or government shutdown on 29 September.
"There is no historical parallel to assess how a failure to raise the debt ceiling before the 'drop dead' date would affect the economy," says J.P.Morgan economist Michael Feroli, still calling it an "extreme scenario" he views as unlikely