European Gold Prices Rise, Euro Hits 20-year Low Against US Dollar, as Gas Prices Jump on Russian Pipeline Shutdown
Monday, 9/05/2022 15:00
GOLD PRICES in US Dollar terms steadied on Monday, while for European investors it rose, amid the Euro hitting a fresh 20-year low as Europe's energy crisis deepens after Russia keeps key pipeline shut writes, Atsuko Whitehouse at BullionVault.
Spot gold traded sideways at $1711 per ounce, after rallying over $20 last Friday with mixed US jobs data suggested that the Federal Reserve may slow the pace of its interest-rate hikes.
Gold priced in Euro meantime rose Monday morning hitting as high as €1734 per ounce, as the Euro weakened against the US dollar to its lowest level since 2002, amid Russian state gas producer Gazprom PJSC stating on Friday that they would indefinitely halt supplies through a key pipeline to Western Europe.
The announcement came only hours after the G7, an informal grouping of seven of the world's advanced economies, said it would be implementing a price cap on Russian oil.
The Dollar index – a measure of the US currency's value versus its major peers – jumped Monday morning to its highest level since mid-2002.
In energy markets, Dutch TTF gas futures, the benchmark European contract, also surged Monday morning, as benchmark futures
jumped as much as 35%
.
Lower gas flows from Russia ahead of and following its February invasion of Ukraine have already pushed up European prices by nearly 400% over the past year, sending electricity costs soaring.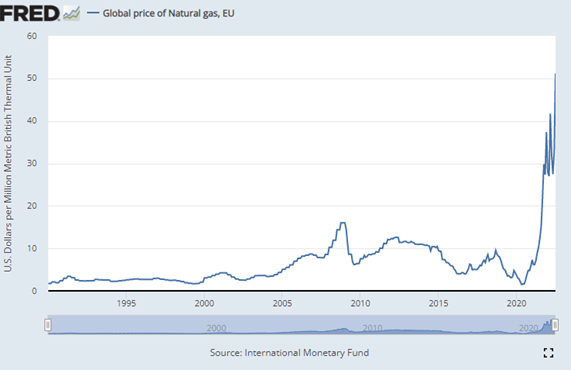 Spot gold in Euro declined 1.4% last week, however, it is up 7% year-to-date, as the Euro has declined more than 12% against the US dollar this year in FX markets to parity last month for the first time since 2002.
Gold prices in the US dollar, meanwhile, is trading down 5.5% year-to-date.
Meanwhile the
UK gold price in Pounds
per ounce edged higher from last Friday's close to around £1489. The Pound this Monday morning slumped to a 37-year low against the US dollar, as markets waited the announcement of the new Conservative Party leader.
Liz Truss will be the UK's new Prime Minister, after winning the Conservative party leadership contest. Taking 57% of valid votes cast, Liz Truss will be travelling to meet the Queen tomorrow for appointment as Prime Minister
Spot gold in Pounds was up 11% year-to-date, as the Pound has fallen 15% against the US dollar this year to the lowest point in decades.
"The pound is expected to continue its journey toward parity against the US dollar, as the dollar continues rising relentlessly," said Ipek Ozkardeskaya, senior analyst at Swissquote Bank, pointing Truss could change the Bank of England's mandate away from controlling inflation, which surged to 10.1% in July 2022, and have it focus on growth.
The European Central Bank is expected to raise rates by 75 basis points at a meeting scheduled for Thursday to prevent surging inflation, which hit a new record of 9.1% in August.
European Union countries' energy ministers will meet on Friday to discuss urgent bloc-wide measures to respond to a surge in gas and power prices. The measures include a price cap on imported gas, a price cap on gas used to produce electricity, or temporarily removing gas power plants from the current EU system of setting electricity prices.
European nations led by Germany announced measures over the weekend to tackle a cost-of-living crisis and the spiralling energy prices. Germany on Sunday unveiled a €65 billion package in emergency relief, while Finland said it would stabilize the power market with a €10 billion program. Sweden on Saturday announced a €23 billion emergency backstop for its utilities.
"A lot of bad news is already being priced in in the US market, whereas in
Europe it is probably not there yet
," said Janet Mui, head of market analysis at U.K. wealth management firm Brewin Dolphin on Monday.
European shares tumbled on Monday, as the Europe-wide STOXX 600 index fell 1.7% in the first hour of trading, while German's Dax index sank 3.1%, eyeing its biggest one-day percentage fall in two months. The UK's benchmark FTSE 100 fell 1.1%, before paring some losses after the announcement of the Conservative Party leader.
US stock markets are closed because of Labour Day.
Oil prices jumped more than $3 a barrel on Monday, as OPEC and its allies led by Russia on Monday announced the decision to cut production by 100,000 barrels per day, amounting to only 0.1% of global demand, for October.
Brent crude is up 3.84% to $96.59 per barrel, while the US West Texas Intermediate also rose 3.59% to $89.99 Monday lunch time.