$1800 Gold Price Beats Stocks, Silver, Bonds and Copper in H1 '22 as Recession Fears Mount
Monday, 7/04/2022 14:34
GOLD PRICES steadied above $1800 on Monday, almost flat from the beginning of 2022 against the strong US Dollar, while global markets edged higher after posting the worst first-half in more than 3 decades amid rising fears of recession, writes Atsuko Whitehouse at BullionVault.
While the yellow metal has lost 12.7% from its near-record peak at $2069 in early March – hit as Russia invaded Ukraine –
gold prices
have so far fallen just 0.04% from the beginning of 2022 in US Dollar terms.
"The fact that gold was immediately bought when it fell below $1800 reflects how its safe-haven appeal is a supportive factor," says Bruce Ikemizu, chief director of
Japan Bullion Market Association
in his latest note
"Wider markets are taking seriously the possibility that inflation could lead to a recession, putting selling pressure on stocks, copper, and the industrial precious metals such as platinum and silver, as well as gold."
Copper prices hovered near a 17-month low on Monday after collapsing by 16% in the first half of 2022.
The Atlanta Federal Reserve's much watched
GDP Now forecast
has slid to an annualised minus 2.1% for the second quarter, implying the country was already in a technical recession in the first half of 2022.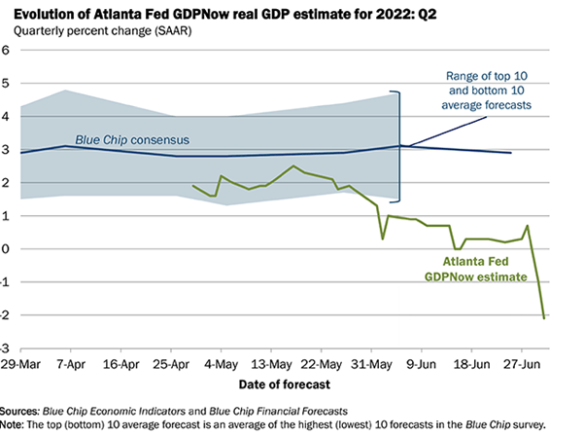 "[That means] countries can no longer rely on a rebound in exports for growth and it has also prompted us to forecast multiple recessions" including the Eurozone, the UK, Japan, South Korea, Canada, Australia and the US.
The MSCI World Index of global stock markets edged 0.4% higher on Monday after plunging by more than 21% in the first half of 2022, its worst such year-to-date losses since at least 1988.
New York's S&P500 index of US equities meantime closed out its worst first-half since 1970 by falling 20.6%, and the tech-heavy Nasdaq had its largest-ever January-June plunge, down 29.5%.
US markets are closed for the July Fourth public holiday on Monday.
Prices for silver, which finds nearly 60% of its annual demand from industrial uses, hovered sideway at $19.83 per ounce, after plunging below $20 for the first time in two years and recording nearly 6% drop last week.
Its weakness today pushed the
Gold/Silver Ratio
– which tracks the two formerly monetary metals' relative prices – up to just above 91, the highest value for gold versus silver in 2 years.
Platinum
, which finds two-thirds of its demand from industrial uses led by auto-catalysts and which fell 8.6% in H1 2022, meantime fell 0.4% to $887 per ounce on Monday, the lowest level since November 2020.
Sister metal palladium – of which Russia is the No.1 miner – edged lower by 0.3% to $1958 per ounce after recording a 3.7% gain from January to June.
Longer-term interest rates spiked in the first half but fell back as debt prices rallied hard into the end of June, pushing the yield on the benchmark 10-year US Treasury note into
tumbling below 3%
to record its biggest weekly drop in 4 months.