Gold Price Drops $60 from New 'Record High' as Cuts Weekly Gain
Friday, 5/05/2023 14:48
GOLD PRICES fell hard after stronger-than-expected US jobs data on Friday but held on track for a 1.4% weekly gain as global stock markets headed for a 2.0% week-on-week drop amid the worsening regional US banking crisis.
With April's growth in non-farm payrolls data beating consensus forecasts by more than 40%, betting that the Federal Reserve will reverse this week's small rate rise to 18-year highs of 5.25% at its next meeting in June evaporated to zero from 1-in-10 of all positions.
Christmas 2023 will still have seen the Fed retreat by 0.75 points according to the consensus betting on December's decision shown by the CME derivatives exchange's FedWatch tool.
New data from the mining-industry's World Gold Council meantime said that Q1 saw central bank gold buying continue but slow a little from 2022's eight-decade record pace, while China's Lunar New Year demand was strong and US coin-and-bar buying edged higher to its heaviest since spring 2010.
Former Western No.1 retail-investing market Germany sank, in contrast, down by almost 3/4 from the first 3 months of last year. Together that put the USA's quarterly retail demand for gold coins and small bars above Germany's for the first time since Q2 2016 and only the 3rd time in the last decade.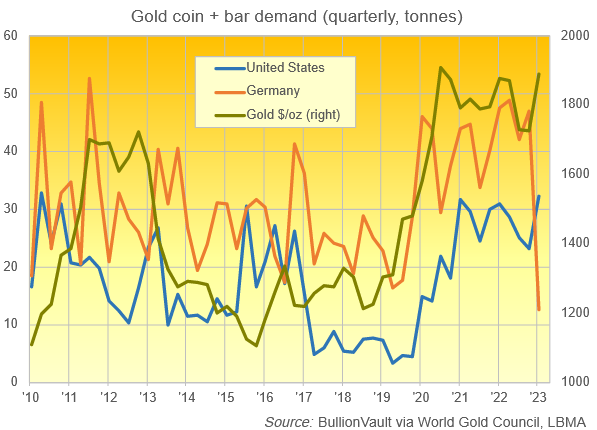 Trading at $2009 ahead of Friday afternoon's PM London benchmark auction, the gold price may have set a new intraday peak $60 higher early Thursday after the US Fed raised its key interest rate as expected but said it will now be "data dependent" on further hikes ahead.
#Gold at an all-time high today in USD terms?

Or not?

Gold has traded much higher today and you may see headlines that it hit an all-time high in US dollars.

Although the active Comex future price hit an all-time high this morning, the spot (OTC) price did not. pic.twitter.com/INjTLK754p

— John Reade (@JReade_WGC) May 4, 2023
"There's push and pull from different sides but what we've yet to see unleashed is widespread financial investment in gold," says the WGC's John Reade, speaking to the Financial Times.
"The question is can [gold] go on from here and make significant gains."
"The Fed is hiking INTO an ongoing banking crisis AND a very contentious debt ceiling crisis," says a note from strategist Nicky Shiels at Swiss bullion refining and finance group MKS Pamp.
"Economically [that makes Wednesday's rate rise] one hike too much [and] the Fed will be forced to U-turn as credit lending is withdrawing fast and having an impact on the real economy
"WTI [crude oil] price action is just telling – a recession is coming. Gold is sniffing that all out and it's a matter of when (not if) that triple top [around] $2075 is breached with $2200 the next target."
Gold prices in China – the metal's No.1 consumer market – today set a fresh domestic record at ¥455 per gram, but the surge in global gold prices meant Shanghai premiums above London quotes held at
$2.50 per ounce for the week, barely 1/3rd the typical incentive for new bullion imports and the smallest weekly average since last June.
Yesterday's strong action in global gold prices saw the giant GLD gold ETF expand by 0.2%, heading for a 2nd consecutive weekly inflow. But the Q1 figures from the WGC say that overall the gold ETF market shrank yet again in Q1.
"The move up [in gold prices] won't be linear," predicts Shiels at MKS Pamp. "It never is and today's volatile price action highlights the drawdowns in being overly long into disorderly markets very typical of late cycle regimes."