'Necessary' Drop in Gold Price to $2000 'a Correction, Not Reversal'
Monday, 4/17/2023 14:42
GOLD PRICES rallied but fell back again Monday in London, slipping below $2000 per ounce amid what analysts called a 'necessary' correction after speculators in Comex derivatives took profit and the giant GLD gold ETF shrank in size for the first week in 5, says Atsuko Whitehouse at BullionVault.
The gold price in US Dollar terms had earlier bounced as high as $2015 per ounce before dropping to $2010 around the London 10:30 benchmarking auction and then falling to dip through $2000 – a 12-month high
when reached in March's mini-crisis
in the banking sector.
Both gold and silver prices dropped 1.7% last Friday after making better than 11% monthly jumps, driven by the
Dollar bouncing off a 1-year low
on the FX market as Federal Reserve officials said the US central bank's rate hikes were yet to have the desired effect of slowing inflation to 2% per year.
Friday's drop "was a necessary market correction, because a too one-sided rise is indeed unhealthy," said Bruce Ikemizu, chief director of
Japan Bullion Market Association
in his latest note overnight.
Gold-backed ETF trust funds were mixed last week, as the SPDR Gold Trust (NYSEArca: GLD) saw its shares in issue shrink for 2 sessions in a row to make the first weekly outflow in 5 weeks, while the iShares
gold ETF
(NYSEArca: IAU) saw net investor inflows make their 5th consecutive weekly gain.
Ahead of the spike to
new 13-month highs above $2045
per ounce, hedge funds and other leveraged speculators in Comex gold futures and options had meantime cut their bullish betting for the first time in 5 weeks, according to positioning data from US regulators the CFTC for the week-ending last Tuesday.
Together with a small drop in bearish bets, that pushed the net long position of Managed Money traders down 5% from a week earlier, when the balance of bullish minus bearish bets had reached its highest since the US and Europe moved to ban energy and commodities exports from Russia in mid-March 2022 in
retaliation for President Putin's invasion
to Ukraine.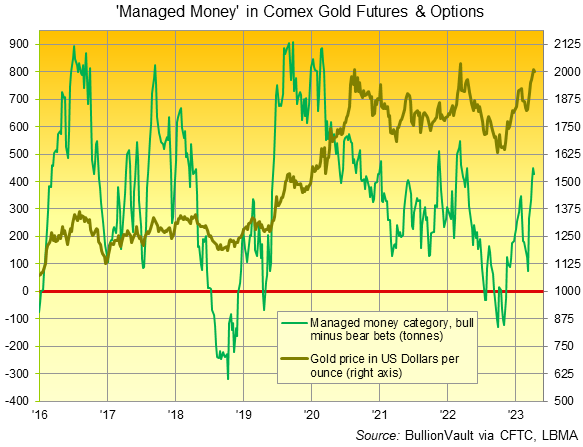 The silver price meanwhile fell today towards Friday's low of $25.16 before spiking to $25.60 and then retreating to unchanged for the day so far at $25.34 per ounce.
The Dollar index – a measure of the US currency's value versus its major peers – edged 0.1% higher, rising for the 2nd session in a row following stronger-than-expected manufacturing activity data for New York State.
Ten-year US Treasury yields – a benchmark rate for government as well as many finance and commercial borrowing cost – edged up at 3.54%, the highest this month.
"Following the strongest four-week buying spree since mid-2019 the yellow metal was exposed to a small amount of profit taking during the week as the price showed signs of consolidating around $2000," says derivatives platform Saxo Bank's commodity strategist Ole Hansen.
Speculators also
shrank their net bullish betting on silver
last week, down by 1.3% from a 2-month high according to the data published since 2006 by US regulator the Commodities Futures Trading Commission (CFTC).
iShares' giant silver ETF trust (NYSEArca: SLV) meantime shrank on Friday for the first time in a fortnight, but still expanded for the week to make the 3rd consecutive weekly gain.
"It's necessary to test just where those physical floors lurk plus it's a reminder that the trend isn't linear," says Nicky Shiels, head of metals strategy at Swiss refining and finance group MKS Pamp, on the drawdown in gold and silver prices on Friday.
"[This is a]
correction not reversal
before another try at the triple top," Shiels continued, pointing to gold's peaks around $2070 per ounce.