Gold Price 'Testing Physical Floors' as Fed Minutes Spook Equities, Bonds
Wednesday, 2/22/2023 14:37
GOLD BULLION held flat against a strong US Dollar on Wednesday as energy commodities fell back and global stock markets slipped together with fixed-income bond prices ahead of the release of meeting minutes from the Federal Reserve's 1st February interest-rate rise.
In the face of inflation easing but holding at what were 4-decade highs around Russia's invasion of Ukraine this time a year ago, "We continue to anticipate that ongoing [interest-rate] increases will be appropriate," Fed chair Jerome Powell said after that announcement.
Powell's message initially seemed "unconvincing" to bullion traders and other financial markets, with gold prices peaking the next morning at 9-month highs near $1960.
But strong US jobs, inflation and other economic data have since seen betting surge that the Fed will indeed continue raising interest rates in 2023, raising longer-term borrowing costs and hitting precious metal as well as the wider financial markets.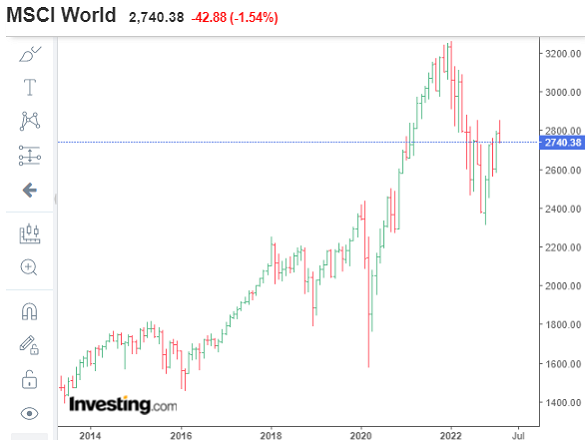 Global stock markets fell again Wednesday, extending yesterday's sharp losses on Wall Street but trimming those losses to 0.3% on the EuroStoxx 600 index ahead of today's opening in New York, where S&P futures pointed to a small rally.
Overall, the MSCI World Index has now lost 6.0% since the eve of Russia's invasion last 24 February, having already lost 10.8% from New Year 2022's record peak as Putin began massing troops along the Ukraine border.
Gold priced in the Dollar – which hit a 7-week high overnight against its trade-weighted basket of the world's other major currencies – briefly edged above $1840 per ounce before dropping back $5.
Ten-year Treasury yields also edged back after hitting 3.96% per annum on Tuesday, the highest since November, when the Fed's steep
rate hike saw gold prices sink
to re-test 2-year lows beneath $1620.
A key benchmark for US government as well as commercial and consumer borrowing costs, the
10-year US T-bond yield
ended 2022 with the fastest year-on-year rise since at least 1964.
"If we were bullish [gold] at $1950, we should be constructive at $1820-50," says an update from metals strategist Nicky Shiels at Swiss bullion refining and finance group MKS Pamp.
"But conviction is now lower [and] any data that supports 'the higher for longer' thinking charges up momentum shorts [in the Comex derivatives market] as physical demand floors are now being tested."
Putting those "tentative" floors for strong bullion buying in the low $1800s for gold and $21.50 for silver, "physical demand would really reemerge" closer to the 200-day moving average in gold around $1780, Shiels says, and sub-$21 in silver.
Silver prices
last month touched 9-month Dollar highs at $24.60 per ounce, but then sank by nearly $3.50 before edging back up to come within 2 cents per ounce of $22 lunchtime Wednesday in London.
"Gold broke below a strong support level at $1840," says a technical analysis from global bank and London bullion market maker Standard Chartered, putting the "next support" at $1810 followed by $1780.
Even so, "We would [now] gradually add exposure to gold (especially those who are underinvested), given that XAU/USD is starting to look oversold.
"Moreover, central bank demand remains strong and we expect that to continue supporting gold prices."
January's "gold fever" came amid reports of record high central-bank demand for 2022, Shiels at MKS agrees, plus rumors of "new strategic buying".
"Surely that support should ramp up $100 lower?" Shiels now asks. But while "there's signs of a bottom forming sub-$1850...conviction is low and there's little visibility on trade flows of whether this strategic buying has reemerged.
"It's certainly still no match for the mix of gold ETF selling and fresh shorts" in the Comex futures and options market.
With the size of exchange-traded gold-backed trust funds
shrinking near a 3-year low
last week. Tuesday's US return from the Presidents Day holiday saw no change in the giant GLD gold ETF or small IAU product, but the SLV exchange-traded product in silver saw net outflows for the first time in 5 sessions.
Positioning data for speculative as well as commercial players in the CME's Comex contracts remains delayed from US regulator the CFTC thanks to a "cyber event" at a third party provider.