Gold Price Firm as 'Polar Vortex' of Nato-Russia War Sinks Stocks, Economic Outlook
Monday, 2/14/2022 14:48
GOLD PRICES held firm at 3-month highs against the US Dollar, Euro and Sterling on Monday, and rose near record highs in Japanese Yen as global stock markets fell and the long-term global economic outlook sank after the US White House said Russia may be about to launch an invasion of Ukraine "essentially at any time" writes Atsuko Whitehouse at BullionVault.
The US Dollar gold price steadied above $1860 per ounce, $5 below Friday's top at the highest since 19 November following the precious metal's fastest 1-day jump since October of 1.8%.
Investors in UK and Europe also saw the gold price hit 3-month highs at £1377 and €1645 respectively, while Japanese investors saw it touch ¥6910 per gram, the highest since August 2020 when gold prices hit their current all-time JPY high of ¥7039.
"A war materially increases the odds of a polar vortex for the economy and [corporate] earnings," says investment bank Morgan Stanley's chief US equity strategist Michael Wilson.
With Russia a key producer of crude oil and natural gas, "A spike in energy prices would destroy [wider economic] demand, in our view, and perhaps tip several economies into an outright recession."
With European stock markets falling steeply, continuing last week's selloff, the spread between 2-year and 10-year US Treasury bond yields flattened sharply on Monday, dropping to around 41 basis points, the narrowest since April 2020, depths of the Covid Crisis across financial and commodity markets.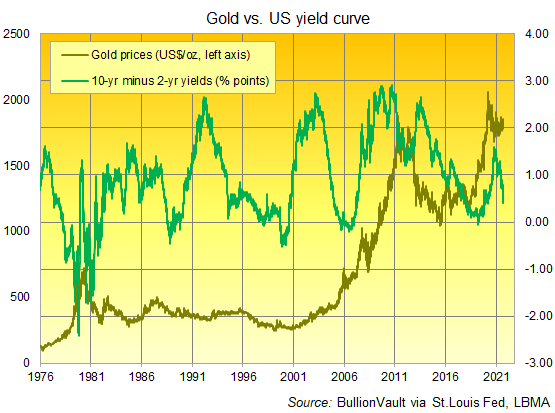 Since 1955 the gap between 2- and 10-year rates has gone negative, creating an inverted yield curve, before each US recession according to a 2018 report by researchers at the Federal Reserve Bank of San Francisco. It offered a false signal just once.
"The flattening of the yield curve is
a sign of recession
and reminds us of the risk in the Federal Reserve's aggressive rate hikes plans," says Itsuo Toshima, an independent investment adviser and former Japan representative of the World Gold Council.
"Gold broke through the $1850 resistance level, which had not been breached by
inflation hedge
buying alone. Markets are in risk aversion mode."
A phone call on Saturday between Russia's President Putin and US President Biden
lasted an hour
but only so they could each reiterate their positions on Ukraine's hopes to one day join the Nato alliance, and without any apparent progress towards averting conflict.
"There are no good reasons for [Russia's military build-up and] activities on the Ukrainian border," said Germany's new Chancellor Scholz today after meeting with Ukraine's President Zelensky in Kyiv.
Gold-backed ETF trust funds expanded last week, with the SPDR Gold Trust (NYSEArca: GLD) growing by 0.8% to its largest in nearly 5 months and the iShares gold ETF (NYSEArca: IAU) expanding by 0.9% to its largest since mid-December.
Silver prices also rose with gold on Monday, reaching 3-week highs at $23.90 per ounce while platinum and
palladium prices
both held flat.