Gold Jumps, Silver Flat for Week as Dollar Falls on 'Soft' US Inflation Data
Friday, 1/13/2023 14:30
The WEAK U.S. DOLLAR saw gold prices rise within 35 cents of $1910 per ounce at the start of London trade today, gaining more than 3% from last Friday while silver held flat for the week despite yesterday's softer US inflation data boosting expectations that the Federal Reserve will slow, cease and then reverse its policy of interest-rate rises in 2023.
Dollar gold prices then fell back, dipping below $1900 as longer-term borrowing costs rose in the bond market, with the yield offered to new buyers of 10-year US Treasury debt bouncing 5 basis points from yesterday's 5-week low of 3.44%, hit after the Bureau of Labor Statistics said inflation in the world's largest economy
slowed to the weakest since late-2021
on both the headline and 'core' CPI indices.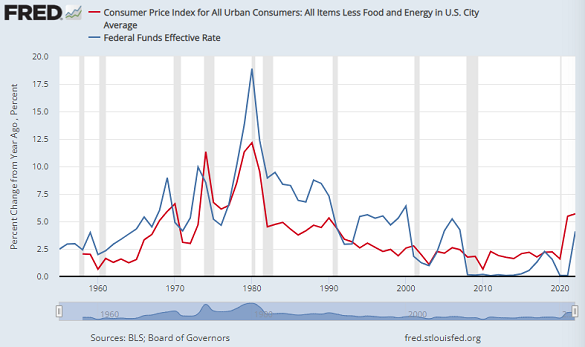 Comex
gold futures
contracts for December settlement at the CME derivatives exchange touched $1992 per ounce early Friday, but Euro gold bullion prices were little changed from last week's finish at €1758.
Gold bullion for UK investors in contrast added £10 per ounce to come within 1.2% of its all-time record high of £1580, hit during the
first-wave Covid Crisis
and then twice in 2022.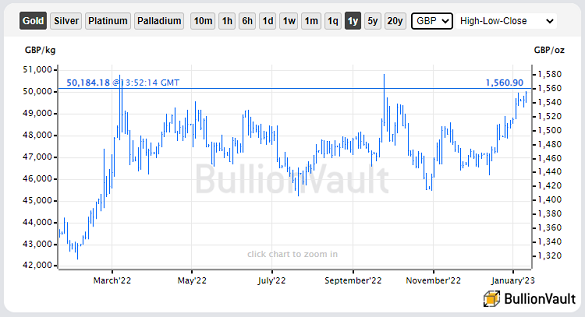 Betting on US interest-rate futures
now sees the chance
of a 'babystep' 0.25-point rise at next month's Fed meeting at better than 9-in-10, with more than 1-in-2 bets on year-end rates seeing no change or a cut from today's rate of 4.50% according to data from the CME.
"The [gold] market is anticipating the end of the rate cycle," says precious-metals analyst Rhona O'Connell at brokerage StoneX.
"Gold is currently overbought and needs to correct, but from a technical standpoint the Golden Cross of yesterday 12th January – with the 50‑Day [average gold price] crossing the 200-Day to the upside – is always an important signal and no doubt a number of [pre-programmed computer] algos will have kicked in accordingly" to bet on the precious metals rising further.
"Positioning [among hegde funds and other] Comex Money Managers has been increasingly bullish...and the attrition in the ETPs [such as GLD and IAU] had been slowing, indicating shifting sentiment in the market.
"This week's CFTC numbers [due after market close Friday] are likely to show additional length, but some profit taking has appeared in the ETPs [globally, adding] only three tonnes so far this year."
While gold's No.2 exchange-traded product the IAU trust fund ended Thursday needing 0.6 more tonnes of bullion to back its shares than last weekend, the giant GLD
gold ETF
shrank by 3.2 tonnes to its smallest since mid-December.
Reaching new 8.5-month lows in terms of gold bullion on Friday, the Dollar also fell today to its lowest since end-April against the rest of the world's major currencies, as tracked by the trade-weighted Dollar Index.
European equity bourses struggled to extend their New Year rally meantime, and Japan's stock market fell as the Yen leapt to May 2022 levels versus the Dollar following yesterday's US inflation data.
China's benchmark gold price set 9-month highs at ¥414 per gram while the Shanghai premium above London quotes held above $20 per ounce, more than twice the typical incentive for new shipments of bullion into gold's No.1 mining, importing and consumer nation.
"During the epidemic,"
says a report
from the government-mandated China Gold Association, "travel was blocked and the bricks-and-mortar jewelry industry was hit.
"Excess purchasing power poured into complementary online retailing, creating opportunities for jewelry e-commerce and also putting pressure on jewelry brands to use new media for publicity and marketing."
So-called crypto currency Bitcoin meantime held above $18,800 to extend its New Year 2023 gains to 13.4% after slumping by more than 3/5th in 2022.