Fed's 'Hawkish Pause' Sees Gold Price Sink to 3-Month Lows with Bitcoin
Thursday, 6/15/2023 13:49
GOLD PRICES fell to new 3-month lows against all major currencies on Thursday, dropping through $1930 per Troy ounce for Dollar investors for the first time since mid-March after the Federal Reserve held its key interest rate unchanged as expected but hiked its 'dot plot' guidance for the cost of borrowing by year's end and repeated its commitment to more than halving inflation from current levels to reach its 2.0% target.
Global stock markets fell, pulling the MSCI World Index 0.2% lower from yesterday's new 14-month high, but Chinese equities rose after
the People's Bank made its first cut
to the key 1-year lending rate since last August in the face of fast-worsening economic data.
"Bond traders are stepping up wagers that the Federal Reserve will steer the US economy into a recession,"
says Bloomberg
, with shorter-term Treasury debt falling in price while long-term bond prices rose, suggesting that the market thinks the Fed will need to cut its overnight interest rate in future and
widening the inverted yield curve
between 2-year and 10-year rates to more than 0.9 percentage points.
"A more hawkish skip than markets expected," said strategist Nicky Shiels at Swiss bullion refining and finance group MKS Pamp after yesterday's Fed announcement and new dot plots, pointing to last night's volatile swings in Treasury bonds, equities, currencies and commodities markets.
"On the surface, [it's] a bearish outcome [for gold prices] but...the thinking is that gold prices will read through their hawkish rhetoric/talk and at the core, the Fed has paused and can pause again."
Near-term however, "We are also entering a seasonally slow period for physical demand," Reuters quotes Asian-focused bank and London bullion market maker Standard Chartered's Suki Cooper, "suggesting gold prices are more likely to drift lower in coming sessions."
Priced in the Dollar, gold bullion hasn't been this low since before the mini-crisis in US regional banking, a panic which spurred a collapse in interest-rate expectations and a surge towards
new record highs in gold
.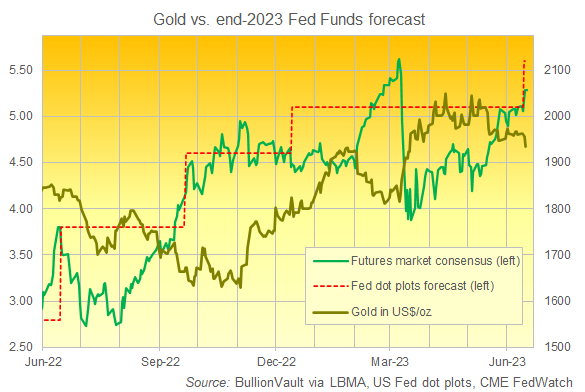 "Nearly all committee participants expect that it will be appropriate to raise interest rates somewhat further by the end of the year,"
said Fed chairman Jerome Powell
in his regular press conference following the US central bank's policy statement and dot-plot forecasts.
"But at this meeting, considering how far and how fast we've moved, we judged it prudent to hold the target range steady to allow the committee to assess additional information and its implications for monetary policy."
The price of gold also sank to new 3-month lows against the Euro on Thursday, falling almost 6% from April's spot-market record to trade at €1778 per ounce, as the European Central Bank raised its key interest rates by 0.25 points as expected, repeating like the Fed that inflation remains far too high above its 2.0% target and taking the refinancing rate for commercial banks to the highest at 4.00% since the rate rise of summer 2008, made on the eve of Lehmans Crash and global economic recession phase of the Western financial crisis.
With the Bank of England now expected to hike UK rates by half-a-point in the face of the worst inflation anywhere in the rich world,
the UK gold price in Pounds per ounce
meantime sank to £1523, down almost 8% from last month's spot-market record.
"After the fastest pace of [US Fed] rate increases in 40 years,
rates are high enough
to have a slowing effect on the economy," reckons Greg McBride, chief financial analyst at popular US personal finance site Bankrate.
"The Federal Reserve is getting close to the end of interest rate hikes."
Like the gold price, so-called crypto currency Bitcoin also fell to 3-month lows Thursday, dropping below $25,000 to show a loss of 2/3rds from late-2021's record highs.
Silver prices
also fell hard, down almost $3 per ounce from April and May's 1-year peaks to trade near 2-week Dollar lows of $23.30.
Both crude oil and copper rallied in contrast, trading 1/3rd and 1/5th respectively below the peaks set following the start of Russia's invasion of Ukraine in spring 2022.