Gold Bullion Nears 4-Week Friday Low as 'No Way Currency' Bitcoin Rallies, Turkey-US Tensions Worsen
Friday, 12/01/2017 14:21
GOLD BULLION prices gave back a rally against the US Dollar on Friday to head for their lowest weekly close in four as European stock markets retreated, relations between Turkey and Nato ally the US worsened again, and Bitcoin rallied 6% below this week's new all-time record high.
Falling back to $1273 per ounce at lunchtime in London, wholesale gold bullion bars began December 10% higher for 2017 to date against the Dollar, but was lower from New Year for Eurozone investors and flat in terms of the British Pound.
Rising over 10-fold for 2017 to date in contrast, crypto-currency Bitcoin -- widely called
"digital gold"
by pundits and headline writers -- rose to $10,500 as derivatives exchange the CME Group said it has received regulatory approval for Bitcoin futures contracts to
launch on 18 December
.
Sales of gold and silver bullion coins by the US Mint have in contrast totalled
the lowest in 10 years
, before the financial crisis exploded, so far in 2017 according to data compiled by Reuters.
"We need to be clear," said French central bank chief François Villeroy de Galhau today, speaking in Beijing.
Adding that the Banque of France itself is "experimenting with [the] innovative technology" of blockchain and distributed ledger record-keeping, "We have also noted with interest the measures taken by the Chinese authorities regarding ICOs," said villeroy de Galhau, referring to Beijing's September ban on what it called
"illegal and disruptive"
initial coin offerings of other digital tokens.
After new data yesterday put US economic growth at its strongest pace in 3 years, manufacturing surveys today said business at European factories is
expanding the fastest since 2000
.
Gold prices for Eurozone investors fell to new 3-month lows beneath EUR 1070 per ounce.
The gold price in Pounds per ounce meantime headed for its lowest Friday finish since mid-July at £945, as the Markit data agency's UK PMI survey put manufacturing activity at a 4-year high.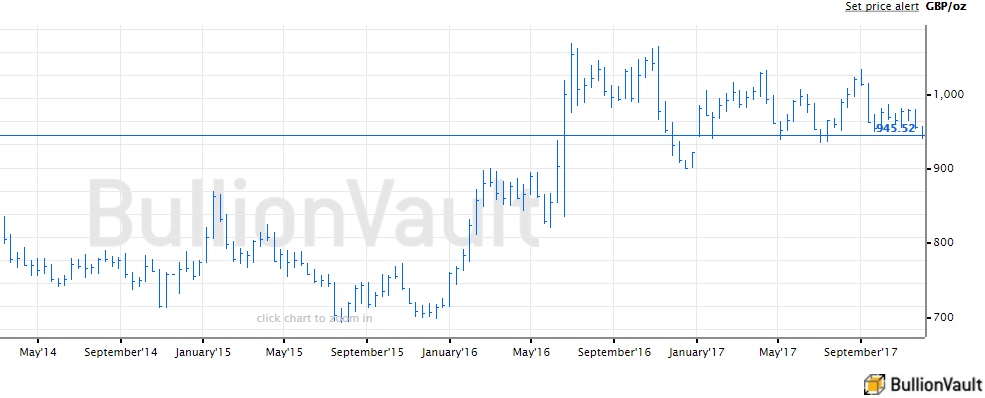 Hong Kong's stock market fell for the fifth session running, trading over 3% below last week's new 10-year high.
Commodities meantime ticked higher as crude oil rallied towards last month's 2-year highs following confirmation of
a 2018 output cap
by producer-nation cartel Opec together with Russia.
Over in New York, Iranian-Turkish gold trader Zarrab yesterday
implicated Turkey's president
, Recep Tayyip Erdoğan, in evidence against bank executive Mehmet Hakan Atilla over sanction-busting cash transfers to Iran.
Avoiding prosecution himself by pleading guilty and co-operating with the US authorities, Zarrab said Turkey's former economic minister Zafer Caglayan -- whom he claims to have bribed -- told him that Erdogan had approved payments to Iran by two Turkish banks in 2013.
Cut off by Western sanctions over its nuclear program, Iran allegedly used money paid into Atilla's Halkbank to buy gold bullion, smuggle it to Dubai, and then sell it for cash.
Erdogan's team last week said Zarrab was being held "hostage" by the US in a politically-motivated case.
Today the Public Prosecutor in Istanbul today
issued an arrest warrant
for former CIA vice-chairman Graham Fuller, claiming he was involved in July 2016's failed coup attempt in Turkey.
Accused along with US academic Henri Barkey of "attempting to overthrow the government" of Turkey, Fuller supported the 2006 immigration to America of Turkish cleric Fethullah Gülen -- blamed by Ankara as the mastermind of last year's coup attempt -- and last month named as part of the plot by Russian political strategist and philosopher Alexander Dugin.
Nicknamed
"Putin's brain"
for his reported sway over the Russian president, Dugin said Moscow has "concrete evidence that CIA agents commanded the failed coup attempt."