Gold Bullion Hits New UK Record, Yuan Price Close as Markets Fear BoJ YCC Shock
Tuesday, 1/17/2023 14:41
GOLD BULLION eased back from multi-month highs against a firmer US Dollar in London on Tuesday and it dropped £10 per ounce from a new all-time benchmark high in terms of the UK Pound as longer-term interest rates worldwide ticked higher ahead of tomorrow's Bank of Japan policy decision on its yield curve control (YCC) policy of capping longer-term interest rates.
Global stock markets also snapped their run of New Year 2023 gains, holding the MSCI World Index flat at 4-week highs, down 13.9% from this time 12 months ago in Dollar terms versus a 5.1% rise for gold bullion at $1913 per ounce.
Japan's Topix index again bucked the wider trend in equity markets, rising 0.8% today as other Asian and then European bourses slipped while the Yen stabilized
near 8-month highs
around ¥128.5 per Dollar.
That pulled the price of gold bullion in Yen terms back to ¥7,900 per gram, a record high when first hit in April last year amid Russia's initially successful invasion of Ukraine.
Spot-market prices for UK bullion investors have peaked £10 higher than that 3 times to date, first during summer
2020's Covid Crisis
, then in March and September 2022 on
Russia's invasion
of Ukraine and the autumn's
'mini budget' crash
in Sterling and UK government bond prices.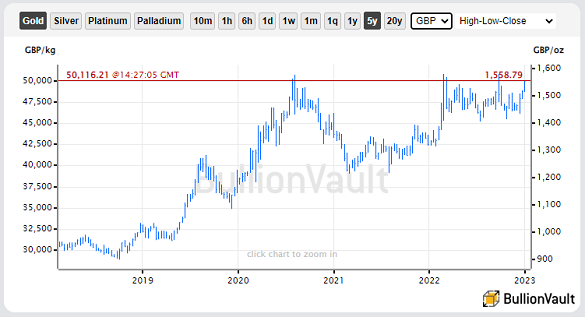 "There is a
strong cautiousness
about taking fresh positions ahead of tomorrow," Reuters quotes Japanese market economist Naomi Muguruma at brokerage Mitsubishi UFJ Morgan Stanley Securities in Tokyo.
"The market [in Japanese government bonds] is thin" as traders look for a change in the Bank of Japan's yield-curve control policy, under which it has intervened to buy 10-year debt to boost its price and so cap the bond's yield.
But now facing 10-year annual yields above the 0.5% ceiling it
set only last month
after losing control at 0.25%, "There's not much left for the BoJ to do except abandon the YCC framework," Muguruma says, allowing borrowing costs to rise.
Tokyo's central government now owes $7 trillion to bondholders including the BoJ, shows the worst debt-to-GDP ratio of any developed-world economy at
more than 260%
.
The JGB market has in fact become "so illiquid" says a note from the Bond Vigilantes blog team at UK asset managers M&G – agreeing that "The Bank of Japan
might do away
with YCC" on Wednesday – "that there's little info to be gained from its pricing [because] the BoJ [is] itself the biggest owner.
"But 10-year [overnight interest-rate swaps] show that the market expects a further widening of [the BoJ's target yield] bands."
Rallying from $1904 in London on Tuesday, gold bullion prices had fallen $15 per ounce overnight as the Dollar strengthened on news that world No.2 economy China saw stronger-than-expected GDP, industrial output and retail sales for the end of 2022, raising bets that the US Federal Reserve won't slow and cease its anti-inflation interest-rate rises so soon.
Priced in the Yuan, gold landed in Shanghai today hit its highest since September 2020 at ¥418 per gram – less than 5% below that summer's all-time record – but the Dollar premium over London quotes slipped below $13.50 per ounce.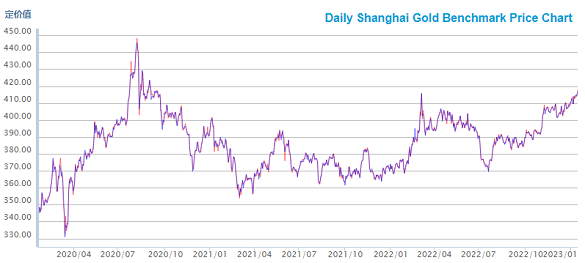 The weakest incentive for new bullion imports since the start of January, that was still more than 50% above the
Shanghai premium
's typical level, boosted by expectations for strong consumer gold demand around this weekend's Lunar New Year celebrations and holidays.
Gold priced in the UK Pound meantime eased back near £1556 per ounce on Tuesday as Sterling rallied towards 5-month highs on the FX market following
solid UK jobs data
which put the average UK wage in real terms "only" 2.6% lower from a year earlier after accounting for inflation in the cost of living.
Euro gold also fell, down €10 per ounce Monday's 7-month peak above €1775.
Silver meantime held firm around $24 per ounce in Dollar terms, while
platinum prices
fell 4.6% from last week's 10-month high of $1105 and palladium continued to lag the other precious metals, trading less than $100 per ounce above last month's near-3-year low of $1651.