Gold Stocks vs. Inflation
Friday, 8/05/2022 09:01
Wrong again, gold bug inflationists...
AS INFLATIONARY pressures ease, inflation-centric gold bugs do the wrong thing, writes Gary Tanashian in his Notes from the Rabbit Hole.
It is ridiculous, but they are out there, en masse. They buy gold stocks for the same reason they buy oil, copper and other cyclical and more inflation sensitive commodities. They are the inflationist gold bugs and they follow the dogma of their influencers, with no second level thinking. No critical thought or logic.
They blame the 'banksters', a nefarious cabal of them, when gold and gold stocks don't go up when inflation is obvious. What should be obvious however, is that in recent gold miner earnings reports the word "inflation" has shown up, and not in a good way.
As gold (their product) does not benefit from the inflationary macro to nearly the degree that some mining cost inputs do, gold miners should lag badly vs. producers of other commodities.
Ah, but never let reality get in the way of a good sound bite or tout.
What does this chart tell us?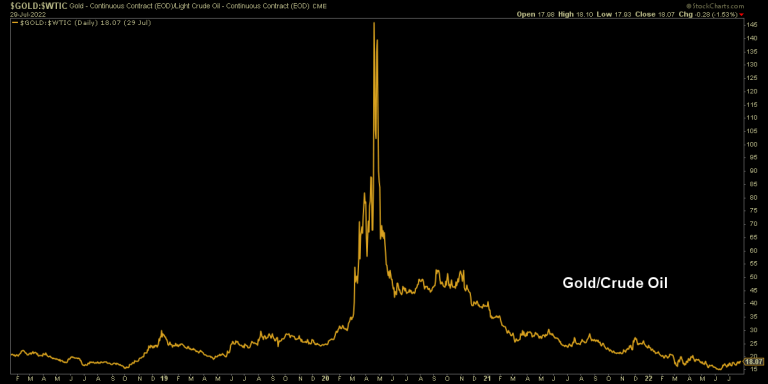 First, gold (mining product) massively out-performed crude oil (mining cost input) during the deflationary pandemic episode.
Second, oil massively out-performed gold during the extended inflationary recovery cycle.
Now as 'inflation expectations' gauges pull back and a broad array of commodities do too, so do the gold miners (admittedly to a smaller degree). But if not for the inflation bugs the gold miners should be loving the macro setup now engaging with Treasury yields dropping as expected, inflation dropping and commodities dropping.
I get it. Indeed, we planned for it. Goldilocks is in play as the 10-2yr yield curve pancakes and Tech/Growth stocks get the rotation. But the fundamental setup is there for gold stocks too, once the inflation bugs finish scattering.