Gold Price Halves Its Rebound from Powell's 'Pause' Comments as Comex Bulls Retreat
Monday, 5/22/2023 15:45
GOLD PRICES edged lower on Monday, losing $15 from Friday's $30 bounce off 7-week lows after speculators cut their bullish position on Comex futures and options at the fastest pace since early March but Federal Reserve Chair Jerome Powell then said the US central bank may be finished raising interest rates, writes Atsuko Whitehouse at BullionVault.
With talks continuing between President Biden and Republican Speaker McCarthy over a a debt-ceiling deal ahead of June's x-date for a US default, the Dollar index – a measure of the US currency's value versus its major peers – edged lower after snapping a six-day winning streak, pulling back from Friday's early 6-month peak ahead of Powell's comments.
Ten-year US Treasury yields – a benchmark rate for government as well as many finance and commercial borrowing costs – meantime recovered a dip to rise back to 3.69%, the highest since mid-March.
"[The Fed's] policy rate may not need to rise as much as it would have otherwise to achieve our goals,"
Powell said Friday
in a discussion with former Fed chief Ben Bernanke, "[because] developments in the banking sector are contributing to tighter credit conditions and are likely to weigh on economic growth, hiring and inflation."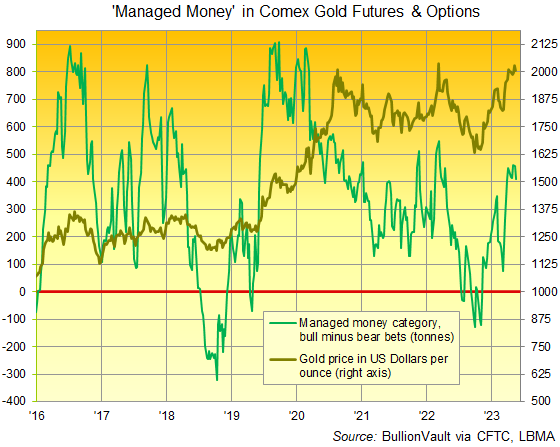 Hedge funds and other leveraged speculators in Comex gold futures and options cut their bullish betting 6% on gold as a group in the week-ending last Tuesday, according to the latest data from US regulators the CFTC.
That 'managed money' group also grew its bearish betting by 17% to the highest since the week ending 21 March – back before gold prices reached $2000 for a third time – and overall, that pushed the net long position of Managed Money traders down 10%, the steepest retreat in 10 weeks after reaching the largest since
early March 2022, when gold prices jumped
amid US and European sanctions against Russia over the Kremlin's invasion of Ukraine.
Speculators last week also cut their net bullish betting on silver, slashing it in half as the more industrially-useful precious metal dropped nearly 7% in price.
The
price of silver
, which finds around 50% of its annual demand from industrial uses, also cut Friday's rally from 7-week lows in half on Monday, back down to $23.70 per ounce.
Gold prices in the US Dollar fell to $1969 per ounce, while wholesale bullion in the spot market slipped 0.3% for UK and 0.6% for Euro investors to £1585 and €1823 respectively.
"Markets are
seeing a deal on the debt limit
and at the same time the Fed pushing back on rate cuts which is ultimately proving positive for the Dollar," said one FX strategist to Reuters.
The last time the USA came this close to default thanks to arguing over the debt limit was in summer 2011, also with a Democrat president and Senate with a Republican-led House.