Gold Jumps vs Sinking Dollar, Silver Hits $24 on US Inflation Slowdown
Wednesday, 7/12/2023 16:50
The DOLLAR price of gold leapt to new 3-week highs Wednesday and silver added almost $1 per ounce for the week so far as the US currency sank following news of a sharp slowdown in consumer-price inflation, boosting bets that the Federal Reserve will be the first Western central bank to stop raising and then start cutting interest rates.
Headline inflation in the US Consumer Price Index dropped to 3.0% per year in June, the
Bureau of Labor Statistics
said, the slowest pace of increase in over 2 years.
Core inflation, excluding the cost of fuel and food, meanwhile slowed to its weakest since October 2021 at 4.9% on the seasonally-adjusted measure, slumping almost half-a-point from May's pace and also coming in just below analyst expectations.
Gold prices for US investors jumped $25 per Troy ounce following the inflation news, peaking at $1958.
Silver prices
meanwhile jumped to $24 – gaining 8.1% from 3 weeks ago – as the Dollar dropped to a 14-month low against the rest of the world's major currencies on the FX market.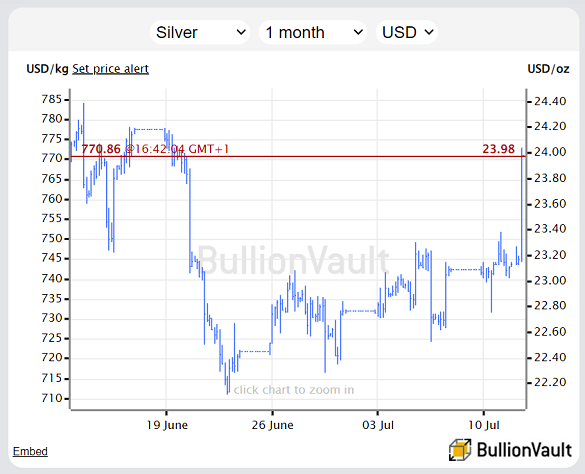 While betting held firm that the Fed will still raise its key interest rate to a fresh 16-year high above 5.25% at its end-July meeting, betting on any further rate rises fell sharply, cutting the consensus year-end forecast by 0.07 points to 5.38%, the lowest such prediction so far this month
according to data
from the CME derivatives exchange's FedWatch tool.
"Gold's short-term moves are still being dominated by US economic numbers," says a note from bullion-market specialist Rhona O'Connell at brokerage StoneX, "but it is worth remembering that the backdrop remains one of hawkish central bank policy overall in the western hemisphere."
The Bank of Canada today raised its key interest rate to 5.0%, the highest in more than 2 decades, but this is "likely to be
the last in this cycle
" reckon some economists, "with the labour market loosening, core inflation declining, and the survey indicators implying that inflation expectations are normalising."
Inflation is also "already on a downward trend" in the 19-nation Eurozone, says Bloomberg, but analysts and traders expect the European Central Bank to extend its "unprecedented" campaign of monetary tightening when it meets in a fortnight,
despite growing calls
for a pause.
"The risks that further increases could create a more difficult situation for growth at the European level are now higher and should be looked at very carefully," says Portugal's finance minister Fernando Medina, echoing Italian prime minister Giorgia Meloni saying that "constantly increasing rates [risks becoming] a cure that does more harm than good."
Over a million home-buyers already face a rise of £500 per month in their mortgage costs, Bank of England chief Andrew Bailey said today (some $3,900 per year).
On top of that, "Around 2.1 million [UK] renters live in homes with buy-to-let mortgages on them," says BBC economics correspondent Andy Verity,
quoting what he calls
"a startling passage" from the Bank of England's banking system
'stress tests' report
today.
If those landlords can't or don't pass on the higher cost of borrowing to their tenants, then the share of BTL loans where rents fall below 125% of the interest payments will jump from 3% to 40% by the end of 2025, the BoE's analysis says.
"Falling profitability could...cause landlords to sell their property investments [and] put downward pressure on house prices" - already dropping the fastest since the end of the global financial crisis according to the Halifax mortgage lender.
But raising rents would hurt tenants badly, the Bank also says, because they "tend to have lower incomes than homeowners...[increasing their] difficulties paying off existing consumer credit [and therefore] their vulnerability to future adverse shocks."
Gold prices for Euro investors briefly popped toward a 1-week high at €1764 per Troy ounce, while
the UK gold price in Pounds per ounce
rallied £10 from its lowest since the end of December at £1492.