2022: The Golden Year
Sunday, 1/09/2022 09:01
Big picture bullish on bullion...
PARDON
the promotional sound of the title. I realize it, and I'm putting it up there anyway,
writes Gary Tanashian in his Notes from the Rabbit Hole.
There is a time for temperance and there is a time for promotion. Too many in the gold sphere forget about that first thing when risk is high, and in August, 2020 it was at nosebleed levels.
As you can see, the 'real' commodity adjusted price of gold was already in a long-term bull market from 2008 and it had actually turned up in 2019 before getting put all out of whack during 2020's deflationary fear fest. The relief shown in this indicator has been in play for as long as the public has been aware of the inflation created by the Fed and the 'inflation trades' associated with it.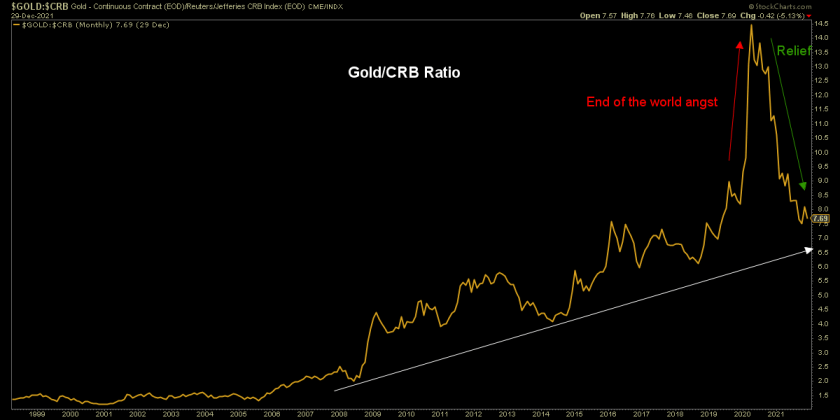 Good news for gold bugs? Risk is about a million times lower now than it was in the summer of 2020 as the ratio comes back on trend.
After gold's higher high to 2011 we projected a need for some extended handle-making. Gold is not, after all, just another cyclical commodity.
Today is a different story. I may be right or I may be wrong about 2022, but the original plan – after NFTRH got bullish the precious metals during 2020's Covid crash (as the Fed cooked up an epic inflationary operation) – was for this downward handle-making as part of a bullish Cup. Let's review.
Nothing has changed since August, 2020, other than the herd's expectations. Gold's monthly chart shows the metal still firmly inside the bullish Handle. But the handle is a bull flag by another name and a bull flag is a bullish thing that goes down, not up.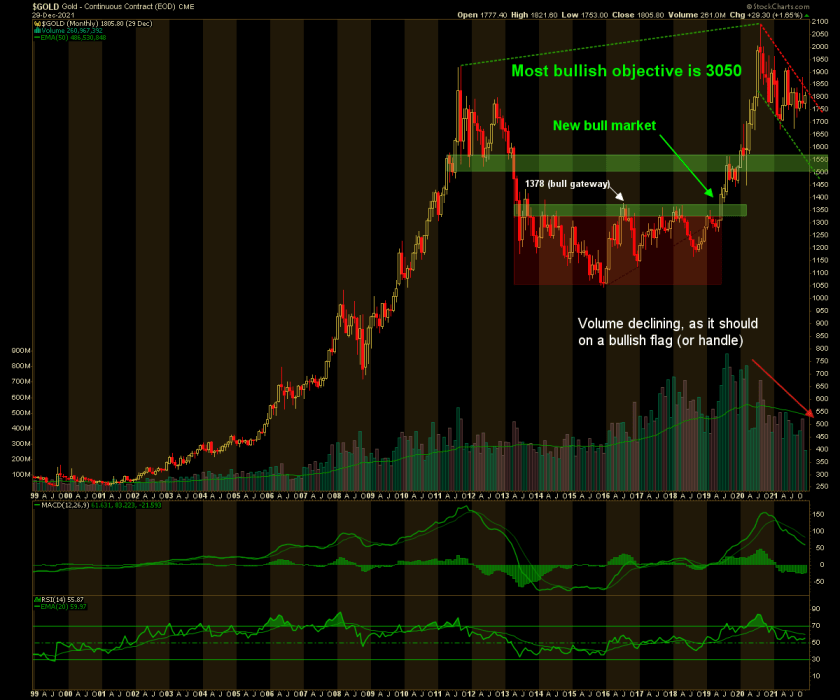 The above do not predict the short-term. But when macro fundamentals (just one of many being gold's standing vs. commodities per the first chart above) marry the technical situation in gold (eg, a Handle breakout or eventual bottom/low) we will lock, load and finally make our due once again in this oft-misunderstood asset and sector.