BTC ≠ XAU
Wednesday, 10/18/2017 09:01
Why Bitcoin won't replace gold. Like really...
BELIEVE it or not, there are upwards of 2,100 digital currencies being traded in the world right now, writes Frank Holmes at US Global Investors.
Their combined market cap is nearly $150 billion, according to Coinranking.com.
Obviously not all of these cryptos will survive. We're still in the early innings. Last month I compared this exciting new digital world to the earliest days of the dotcom era, and just as there were winners and losers then, so too will there be winners and losers today.
Although Bitcoin and Ethereum appear to be the frontrunners right now, recall that only 20 years ago AOL and Yahoo! were poised to dominate the internet. How times have changed!
It will be interesting to see which coins emerge as the "Amazon" and "Google" of cryptocurrencies.
For now, Ethereum has some huge backers. The Enterprise Ethereum Alliance (EEA), according to its website, seeks to "learn from and build upon the only smart contract supporting blockchain currently running in real-world production – Ethereum." The EEA includes several big-name financial and tech firms such as Credit Suisse, Intel, Microsoft and J.P.Morgan Chase, whose own CEO, Jamie Dimon, knocked cryptos a couple of weeks ago.
Lately I've been seeing more and more headlines asking whether cryptos are "killing" gold. Would the gold price be higher today if massive amounts of money weren't flowing into bitcoin?
Both assets, after all, are sometimes favored as safe havens. They're decentralized and accepted all over the world, 24 hours a day. Transactions are anonymous. Supply is limited.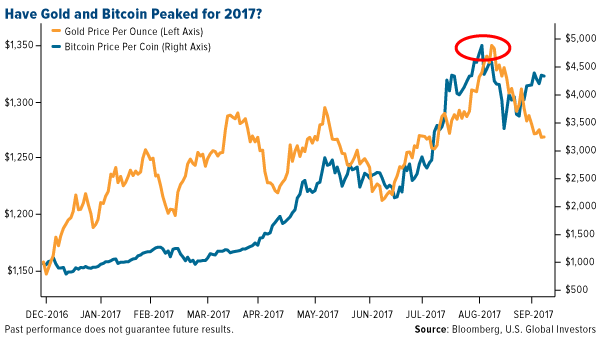 But I don't think for a second that cryptocurrencies will ever replace gold, for a number of reasons. For one, cryptos are strictly forms of currency, whereas gold has many other time-tested applications, from jewelry to dentistry to electronics.
Unlike cryptos, gold doesn't require electricity to trade. This makes it especially useful in situations such as hurricane-ravished Puerto Rico, where 95% of people are reportedly still without power. Right now the island's economy is cash-only. If you have gold jewelry or coins, they can be converted into cash – all without electricity or WiFi.
Finally, gold remains one of the most liquid assets, traded daily in well-established exchanges all around the globe. Every day, some £13.8 billion, or $18 billion, worth of physical gold is traded in London alone, according to the London Bullion Market Association (LBMA). The cryptocurrency market, although expanding rapidly, is not quite there yet.
I will admit, though, that bitcoin is energizing some investors, especially millennials, in ways that gold might have a hard time doing. The proof is all over the internet. You can find a number of TED Talks on bitcoin, cryptocurrencies and the blockchain, but to my knowledge, none is available on gold investing. YouTube is likewise bursting at the seams with videos on cryptos.
Bitcoin is up 350% for the year, Ethereum an unbelievable 3,600%. Gold, meanwhile, is up around 10%. Producers, as measured by the NYSE Arca Gold Miners Index, have gained 11.5% in 2017, 23% since its 52-week low in December 2016.