Gold and Silver Drop from 11% and 25% Monthly Jumps But Ratio Falls to New Year Level
Friday, 4/14/2023 14:38
GOLD and SILVER PRICES fell hard this afternoon in London, dropping from what would have been a new all-time record Friday finish and the highest weekend level in 21 months respectively as longer-term interest rates jumped despite new data saying that US retail sales shrank badly last month.
Betting fell back that the Federal Reserve might not raise its key target rate again next month as 10-year borrowing costs in the Treasury bond market jumped to the highest in 2 weeks as giant US financial services group J.P.Morgan reported record quarterly revenues, with profits for Jan-March
jumping by more than a half
from the same period last year.
Gold priced in the Dollar fell over $20 to touch $2018 before rallying $5 per ounce, while silver prices dropped 1.5% inside 20 minutes before rallying back to $25.80 per ounce.
Silver prices had earlier traded above $26 per ounce at London's midday benchmarking auction for the first time since mid-July 2021.
In contrast to gold, silver remains at barely half its all-time peak of January 1980, trading 46.8% below its spring 2011 high of $48.70 per ounce.
Even so, Friday morning's prices put the Gold/Silver Ratio – a simple measure of the 2 formerly monetary metals relative values – beneath 79 ounces of silver to 1 ounce of gold.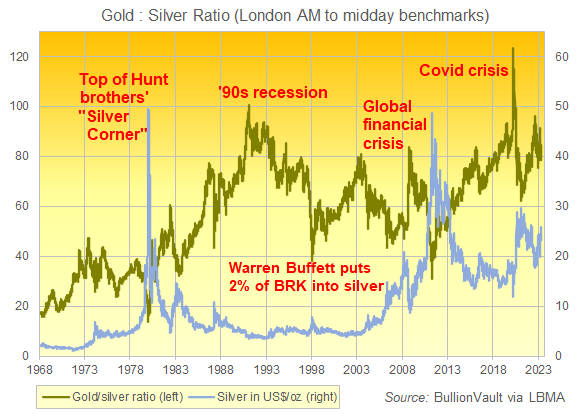 At the peak of silver's ascent, London silver bullion prices had risen 25.2% by Wednesday from a month earlier, the fastest such rise since summer 2020 and a move matched or beaten on only 234 trading days across the last 55 years, putting it within the top 1.7% of silver's strongest 1-month jumps since April 1968.
Analysis by BullionVault says that, on average across the last 55 years, a 1-month gain in silver of 25% or more has typically been followed by a fall of 2.1% over the following 1-month period.
Gold's recent surge meantime saw it rise by 11.2% in Dollar terms in the month ending last Thursday, putting it within the top 4.5% of all 1-month moves since April 1968.
One-month moves in gold of 11% or more have typically been following by a further gain of 1.4% across the following 1-month period.
Coming after softer-than-expected US inflation data had boosted bets on the Federal Reserve cutting interest rates sooner than later in 2023, Friday's retail sales figures said consumer
spent 1.2% less in March
than February, the 2nd monthly decline.
But within that figure, sales by non-store retailers
were up 12.3%
year-on-year by value, while food services and drinking places saw sales rise 13.0% from March 2022.
Data from the Atlanta Fed meantime
contradicted the sharp slowdown
in average US wage growth reported by the standard Bureau of Labor Statistics figures, showing that median wages rebounded to 6.4% annual growth in March.
With some Fed members saying at last month's meeting that only the banking scare prevented them from
wanting a half-point hike
, betting that the US central bank will now raise its key interest rate by another quarter-point in May has jumped to
price the odds at 4-in-5
.