Gold Down $150 from Jan's Top, Silver -15% as Rate-Hike Bets Surge on US PCE Inflation
Friday, 2/24/2023 15:25
GOLD and SILVER sank against a rising Dollar on Friday as Western stock markets also fell on the 1st anniversary of Russia invading Ukraine after new US data said inflation in the world's largest economy is running hotter than analysts and traders expected, even when fuel and food prices are ignored.
Hitting new 2-month and 3-month lows respectively at $1809 and $21.85 per ounce, gold and silver have lost some $150 and 15% from New Year 2023's 9-month highs.
Fixed-income bond prices also sank after today's stronger-than-expected PCE inflation data, driving 2-year US Treasury yields up above 4.8% per annum, the highest since July 2007 –
eve of the global financial crisis
– while 10-year yields hit 3.95%, up 0.6 percentage points from mid-January's 4-month low.
That still left the US
yield curve deeply inverted
– widely seen as a signal of recession ahead – after yesterday's 2nd estimate for year-end economic growth was cut by an upwards revision to the GDP purchasing price index.
With today's core PCE reading for January coming in at 4.7% per year, one-in-3 bets on next month's Fed interest-rate decision now see the US central bank hiking by 0.5 points to a ceiling of 5.25%, up from fewer than 1-in-30 bets this time last month according to the
CME derivatives exchange's FedWatch tool
.
Looking ahead to December's decision, just 1.6% of betting now sees the Fed ending 2023 at today's rate beneath 5.0% or lower, down from more than 4-in-5 bets at this point last month.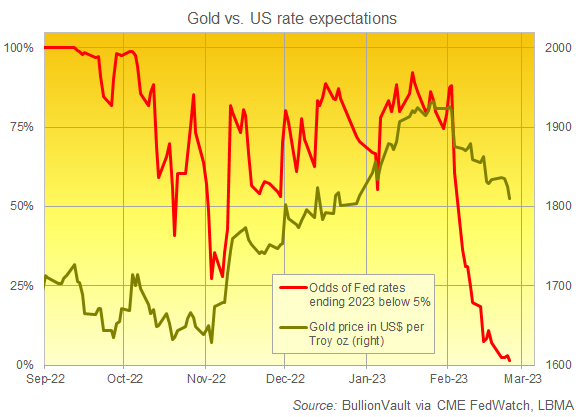 "A meaningful hawkish shift [in sentiment] has weighed very heavily on gold," Reuters quotes one futures and options pundit.
Besides rising Treasury bond yields – a strong headwind for no-income bullion – "Gold has been troubled by a recovering Dollar," adds a spreadbetting bookmaker's analyst.
Having cut 2022's near-20% surge in half between September and January, the US Dollar has now regained more than 1/3rd of that drop against the rest of the world's major currencies on its trade-weighted index, touching 11 week highs after Friday's PCE inflation data.
While gold priced in the Euro ended this week in London's bullion market barely changed at €1719 per ounce, silver for single-currency investors dropped to the cheapest since early November beneath €19.80.
Silver for British investors dropped below £17.50, also 15% off last month's top, and the UK price for investors
choosing to trade gold
bullion in Pounds lost £10 from last Friday at £1517.
Friday's US data said the core PCE measure – which tracks prices for US personal consumption expenditures excluding fuel and food – accelerated 0.1 points from December's 14-month low of 4.6% per year, defying analyst forecasts for a slowdown to 4.3%.
Headline PCE including fuel and food also beat analyst forecasts,
rising 0.6% in January
from December, the fastest 1-month rise since June according to the Bureau of Economic Analysis.
Solid inflation had already led
the BEA to cut its estimate of GDP
growth for end-2022 yesterday, down from 2.9% to 2.7% annualized between October and December and slowing hard from confirmed growth of 3.2% in the third quarter as the price index for gross domestic purchases increased by 3.6%, revised higher by 0.4 percentage points.