Gold and Silver Reverse Bounce on 'Resilient' US Data After GLD and SLV Expand
Thursday, 2/16/2023 14:15
GOLD and SILVER PRICES reversed an overnight bounce Thursday after the GLD and SLV bullion-backed ETFs grew slightly, dropping back to multi-week lows as new US data continued the run of resilient economic news, denting expectations that the Federal Reserve may cease and then reverse its policy of interest-rate hikes in 2023.
Like US consumer-price inflation for January, producer-price inflation for US businesses slowed slightly on an annual basis,
new data said Thursday
, but cost pressures were still firmer than consensus forecasts, with 'core' prices – excluding fuel and food – rising 0.6% from December, the fastest monthly rise since last March, when Russia's invasion of Ukraine
sent inflation soaring
.
Retail sales meantime
jumped the fastest in almost 2 years
last month, new figures said Wednesday, while today's data releases said initial claims for jobless benefits in the world's largest economy were smaller than analysts expected yet again last week.
"Though the recent positive US economic releases and a firm US Dollar continue to put pressure on the safe-haven status of gold," Reuters quotes one commodity researcher, "there are chances of a mild technical bounce-back as prices dipped to multi-week lows."
A 'bounce' may take gold to "resistance at $1853 per ounce, and
resume its drop
thereafter," according to the news-wire's inhouse technical analyst.
"The [prior] uptrend formed in precious metals prices is inconsistent with the slew of resilient...data," agrees a chart note from Canadian brokerage TD Securities, "which have raised the risk that the Fed will not be in a position to cut rates in 2023."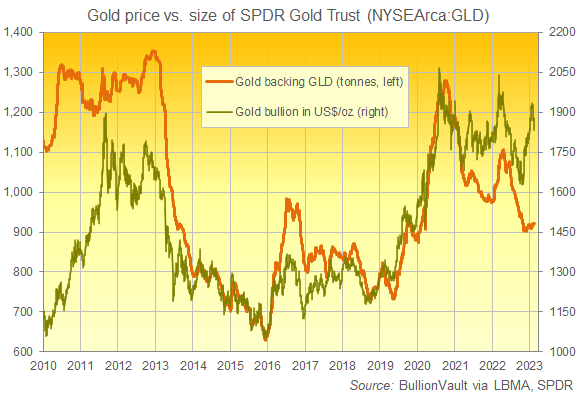 Wednesday's price drop in gold bullion saw the giant SPDR Gold Trust (NYSEArca: GLD) grow very slightly, needing an additional 0.3 tonnes to back the number of shares in issue and marking its first inflow in 5 sessions.
Smaller
gold ETF
the iShares' product (NYSEArca: IAU) did not change, but silver's giant iShares' product (NYSEArca: SLV) also expanded, adding 0.1% to reach its largest size since late October as silver bullion prices sank to the lowest since end-October at $21.43 per ounce.
Silver prices today rallied to $21.80 before halving that recovery at $21.60, while gold attempted but failed to rise back above $1840.
Longer-term interest rates held firm at multi-week highs, with 10-year US Treasury yields close to yesterday's new 2023 peak of 3.81% per annum, up by more than 2/5ths of a percentage point since the Federal Reserve raised its overnight rate by 0.25 points
as expected on 1 February
.
That left the US yield curve deeply inverted, however – snapping the usual pattern of shorter-term rates trading below long-term yields in what has historically proven
a clear warning of economic recession ahead
– as 2-year Treasuries offered 4.60% per annum, the highest yield in 3 months.
Platinum meantime slipped to a fresh 3.5-month low below $916 per ounce, while
sister PGM metal palladium
– used almost exclusively in gasoline-engine autocatalysts to reduce harmful emissions – held near its cheapest since mid-August 2019 around $1460.
With gold and silver falling as bond yields and interest rates rose, global stock markets showed a very small rise for the 3rd session running, edging the MSCI World Index up to 10-session highs.