Gold Price Flat vs. Falling US Dollar as 'Necessary Recession' Looms vs. Inflation
Monday, 7/25/2022 14:00
GOLD PRICES flat-lined against a weaker Dollar on Monday, edging lower for UK and Euro bullion investors as recession fears grew ahead of this week's Federal Reserve interest-rate decision, writes Atsuko Whitehouse at BullionVault.
Spot gold prices in US Dollar terms edged up 0.1% to $1729 per ounce after recording their first weekly rise in 6 weeks,
gaining $50 from Thursday's test
of the precious metal's post-Covid floor.
The Dollar Index – a measure of the US currency's value versus its major peers – meanwhile retreated for the 3rd sessions in a row on Monday, falling again versus the Euro after the European Central Bank's bigger-than-expected 50-basis point hike in its deposit interest rate to zero.
"Rising concerns over economic growth have fuelled safe haven [gold] buying," claims Daniel Hynes, senior commodity strategist at Australasian bank ANZ.
Gold priced in Euros however slipped Monday to €1685, down €15 per ounce from Friday's peak, while the gold price in UK Pounds also fell after bouncing 3% from Thursday's fresh 5-month lows at £1405.
Looking ahead to this Wednesday's US Federal Reserve decision, "Policy makers have little choice but to push rates higher because they can't afford to allow inflation expectations to escalate," says ex-Fed Governor Laurence Meyer.
With the Fed Funds rate now at 1.75% while US consumer price inflation makes another
40-year high at 9.1%
for June, the real return to cash savings is now more deeply negative than even during the worst of the 1970s.
Interest-rate markets are currently pricing in a 75-basis point rate hike for the second straight month, taking the Fed's upper target to 2.50%.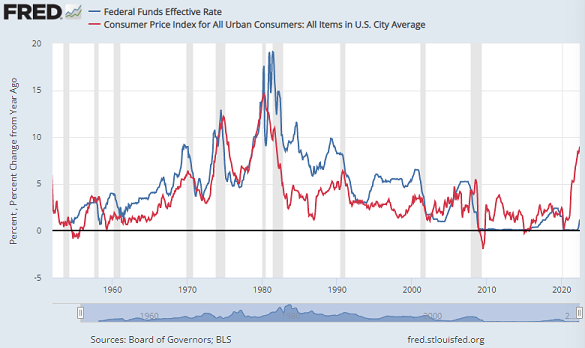 "A mild recession is probably pretty good from the Fed's point of view given the situation we're in and how bad it looks," Meyer says, forecasting a drop of 0.7% in GDP next year, plus unemployment rising to 5% as inflation then returns to the Fed's 2% target in 2024.
US Gross Domestic Product (GDP) data is due on Thursday.
Analysts at Moody's Investors Services echo that view, saying that second-quarter
GDP fell 1%
at an annualized rate.
"But we're in a period of transition in which growth is slowing and that's necessary and appropriate."
The US services PMI fell to a 26-month low of 47 in July from 51.6 in the prior month, based on a "flash" survey from S&P Global Market Intelligence, published last Friday. Readings below 50 signifies contraction.
While the US manufacturing flash PMI slid to 52.3 from 52.7 in June but kept above 50, the flash PMI composite output index fell to 47.5 in July, making the sharpest contraction in at least two years.
"We hope that won't be necessary."