Gold Price Falls as US and UK Central Banks Prepare to Pull Trigger on Higher Rates
Monday, 10/18/2021 14:38
GOLD PRICES edged lower on Monday as global bond yields rose with markets now pricing in UK and US central-bank rate hikes as inflation fears mount with crude oil prices hitting new multi-year highs, writes Atsuko Whitehouse at BullionVault.
New data meantime showed China's economy growing at the slowest pace in a year, far below analyst forecasts.
Prices for silver
, primarily an industrial metal, edged lower by 0.2% to $23.27 per ounce after rising 2.8% last week.
Prices for platinum, which finds two-third of its demand from industrial uses, fell 1.6% to $1043 per ounce, paring last week's 3% gain.
Spot gold prices in London edged down by 0.2% to $1764.33 per ounce, extending
last Friday's 1.6% drop
after rising to touch $1800 for the first time in a month on news of the strongest US consumer-price inflation in 3 decades.
"Markets see high inflation, central banks with their
finger on the trigger
, and growth slowing," says Trevor Greetham, head of multi-asset investment at UK insurance giant Royal London.
Nearly
80% of positions
in US interest-rate derivatives for September 2022 now price in at least one 25 basis-point rate rise by the Federal Reserve between now and then, up from less than 30% a month ago.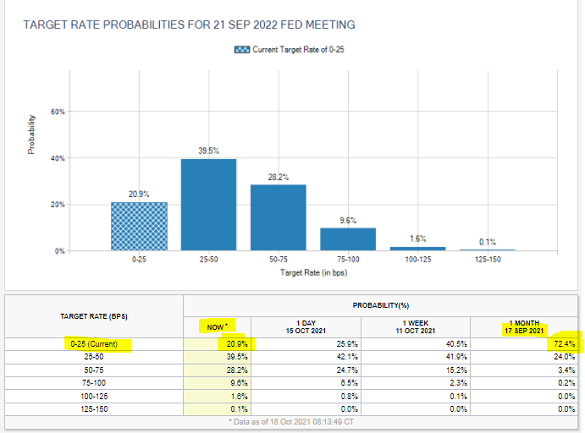 "Gold faceplants again after red-herring rally last week," say a note from derivatives platform Saxo Bank, pointing to gold's failure to break and hold that higher level.
The spike saw gold prices "sell off steeply and back into the range on Friday, most likely on
strong risk sentiment
and the sharp back-up in US yields."
But Asian stock markets today fell on the Chinese GDP data, with Europe's Stoxx 600 index of shares erasing 0.5% of last week's better than 2% gain.
China's economy grew only 4.9% in the July to September quarter from the same period last year, official estimates said Monday, the slowest pace since Q3 2020 and worse than analysts had predicted, slowing from 7.9% in the spring.
Ten-year US Treasury yields – a benchmark rate for government as well as many finance and commercial borrowing costs – climbed back above the 1.6% mark Monday morning, reaching its highest since late-May.
Having fallen on last Thursday's inflation data, the 10-year yield resumed its rise on Friday after separate figures showed US retail sales growing 0.7% in September versus an expected month-on-month decline of 0.2%.
UK Gilt yields also rose Monday, with 2-year rates jumping to 0.747%, their highest level in two-and-a-half years on Monday, after Bank of England governor Andrew Bailey said the UK central bank is preparing to raise overnight rates.
"Monetary policy cannot solve supply-side problems," Andrew Bailey said
in a speech Sunday
, "but it will have to act and must do so if we see a risk, particularly to medium-term inflation and to medium-term inflation expectations."
Eurozone bond yields also rose on Monday despite the more dovish stance of its policymakers, with European Central Bank president Christine Lagarde repeating her view on Saturday that "Inflation is largely transitory."
Lagarde however said the ECB is paying "very close attention" to wage negotiations and other potential second-round effects that could drive prices higher more permanently.
Germany's 10-year yield, the benchmark for the 19-nation Euro area, was up 4 basis points at -0.13%, rising back towards last week's 5-month high.
Oil prices meantime hit new multi-year highs today, with Brent crude oil futures reaching $86 a barrel, the highest since October 2018.
US West Texas Intermediate crude futures climbed to just under $84, the highest since October 2014.
Both contracts rose by at least 3% last week, to extend their seven-weekly gain.
UK and European gas prices surged almost 18% on Monday after Russia's Gazprom
dented hopes
for additional supplies next month, despite hints from President Vladimir Putin that more could be forthcoming.