Gold Price Link to US Rates Weakest Since Mid-2015 as Bond Yields Jump on Trump Tax Bill
Wednesday, 12/20/2017 14:21
GOLD PRICES rose against a falling US Dollar on Wednesday morning, touching 2-week highs at $1266 per ounce despite an overnight jump in longer-term US interest rates after lawmakers in Washington voted to approve President Trump's tax plan.
On a weekly basis however, this negative correlation between gold and real 10-year Treasury yields has been weakest over 2017 since the 12 months ending July 2015, reading -0.43 against an average over the last decade of -0.74.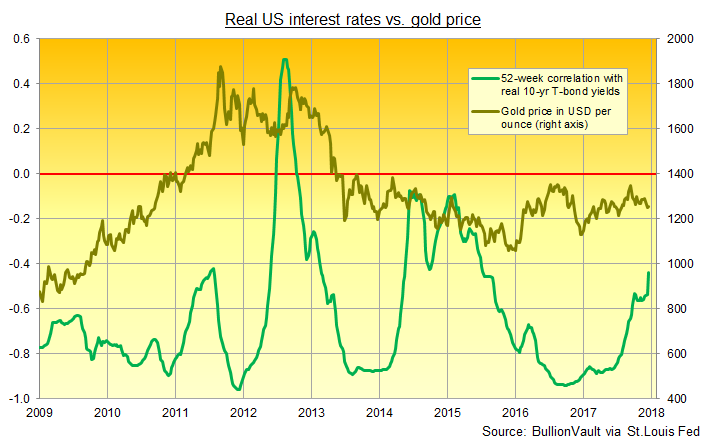 Due for a re-vote today owing to a procedural snag, Trump's tax cuts
will add $1.4 trillion
to the annual federal deficit over the next decade according to the bi-partisan Congressional Budget Office.
China will meantime push further "structural" reforms, Beijing announced today, seeking what the official news agency called "a virtuous circle" between the financial sector and economic growth to implement leader Xi Jinping's "
thought on the Socialist economy
with Chinese characteristics for a new era," announced at the Communist Party's congress last month.
Clamping down on "irregular and illegal" activities in finance, Beijing will also reduce over-capacity in industry while
also "tackling pollution"
says Xinhua of what it calls today's "key" meeting.
The Yuan jumped to 3-month highs Wednesday against the falling Dollar, and "Gold buying accelerated after Shanghai opened with a strong premium," says a trading note from Swiss refiners MKS Pamp.
Shanghai premiums rose Wednesday towards $13 per ounce over London
gold prices
, some 40% above the average incentive for bullion imports into China.
The world's No.1 gold consumer nation, China now sees household gold demand peak at the Lunar New Year, falling in 2018 in mid-February.
US Treasury bond prices steadied this morning after their sharpest 2-day drop of 2017 to date, capping 2-year interest rates at 1.86% – the highest since before Lehman Brothers collapsed in autumn 2008 – with 10-year yields at 2.48%, offering the highest rate of return to new buyers since March.
Betting on US interest-rate futures now puts the likelihood of a March 2018 hike to 1.75% at nearly 2-in-3.
The chances of a further rise in June to 1.75% or above currently stand at 37.1% according to
the CME's FedWatch tool
.
The Euro single currency today touched last week's December high above $1.1850, curbing the gold price for German and French investors at €1067 per ounce, some €1.50 lower for the week so far.
The British Pound also neared 1-week highs against the greenback, trading above $1.35 after the European Union said the UK's period of "transition" in leaving the free-trade bloc
must end by New Year 2021
.