Gold Price Rallies as China Fears 'Minsky Moment' 30 Years After Black Monday, Spain and India Add to Tensions
Thursday, 10/19/2017 14:12
GOLD PRICE losses of 2.0% for the week so far were cut to 1.2% lunchtime Thursday in London, as world equities fell from new record highs and government bond yields rose against a backdrop of fresh geopolitical tensions from Spain to India and China.
After Wall Street set new all-time highs last night, gold priced against the rising US Dollar touched $1288 per ounce as Western stock markets marked the 30th anniversary of October 1987's Black Monday – the sharpest ever 1-day fall in equities – by falling some 0.7% on average.
Commodities slipped and major government bond prices rose, nudging longer-term interest rates lower.
The weakest UK retail sales data in 4 years meantime saw the Pound retreat to a 1-week low on the foreign exchange market, helping
the UK gold price in Pounds per ounce
to halve this week's earlier 1.5% loss to trade at £976.
"From being the most hated developed market currency earlier this year," says a Hedge Fund Watch from French investment bank Societe Generale, "Sterling is now back in favour" with speculators.
"March 2017 marked [the Pound's] lowest level since 1988 and the sharp swing in net [speculative] positioning since then is a neat illustration of continued high volatility in the FX markets while volatility in almost all other asset classes is exceptionally low."
Ticking higher on Wednesday's new all-time record highs in US equities, the Vix volatility index ended at 10.3 from last week's fresh record 9.2 lows.
Measured since 1990, the Vix peaked at an annual average of 32.7 amid the 2008 financial crisis.
Its previous annual lows came beneath 13 in the mid-1990s and mid-2000s.
So far in 2017, the Vix has averaged 11.8 year-to-date.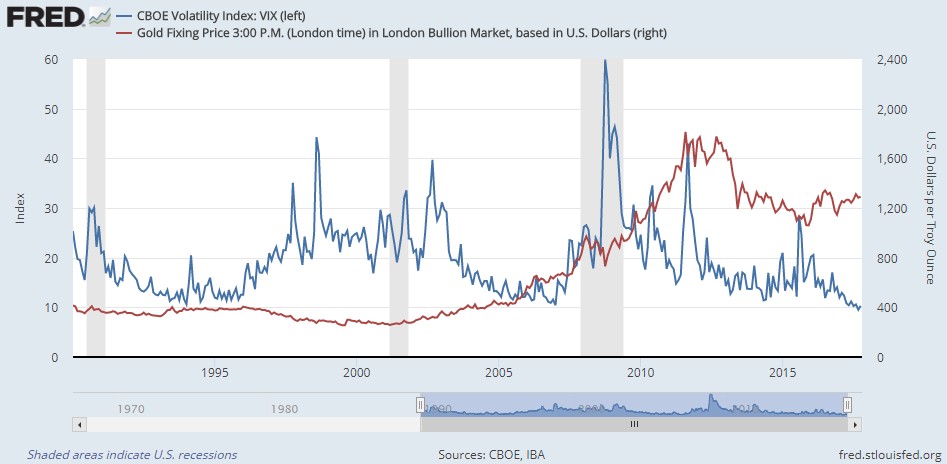 Spain's prime minister Mariano Rajoy today told Catalonia's leader Carles Puigdemont that he will invoke Article 155 and
take back all regional powers on Saturday
unless the Barcelona parliament confirms it's not seeking independence.
Chinese and Hong Kong equities had earlier fallen on Thursday after People's Bank governor Zhou Xiaochuan stressed a
"focus on preventing" too much debt
and leverage creating a 'Minsky Moment' of panic and tumbling asset prices.
"China, while rising alongside India, has done so less responsibly, at times undermining the international, rules-based order," said US Secretary of State and former Exxon oil chief Rex Tillerson Wednesday, contrasting the way that China's regional competitor India "share[s] an affinity for democracy [and] a vision of the future" with the United States.
"Palladium had a terrible session yesterday," says a note from the Asian trading desk of Swiss refiners MKS Pamp, with the precious metal – primarily used to reduce emissions in gasoline engine catalysts – sinking over 5% by Wednesday night from Monday morning's new 16-year highs above $1000 per ounce.
"It [seems] the fall was more just a lack of liquidity than any large scale selling," says the note.
The
price of platinum
– used in diesel engine catalysts as well as jewelry and a range of industrial processes – meantime rallied on Thursday from this week's earlier 3.1% drop to $917 per ounce.
That was a 6-year low when first reached in October 2015, and came almost 25% below the metal's last 5 years' average.