Gold Price Firm Above $2000 as China's Demand Rebounds
Monday, 5/15/2023 14:22
GOLD PRICES were little changed Monday as Chinese gold demand increased and financial markets focused on the US debt ceiling standoff and Turkish election result, writes Atsuko Whitehouse at BullionVault.
With US Treasury Secretary Janet Yellen urging Congress to raise the $31.4 trillion federal debt limit and avert an "unprecedented" default, talks are set to continue between US President Joe Biden, House Speaker Kevin McCarthy and other congressional leaders on Tuesday.
Gold priced in the US Dollar edged up 0.2% to $2015 per ounce, while wholesale bullion for UK investors in the spot market edged lower 0.1% to £1612 and traded sideway at €1853 for European investors.
China's domestic gold price had in contrast risen 0.4% overnight, reaching ¥452 per gram on the Shanghai Gold Exchange and showing a premium to London prices of $4.90 per ounce after that incentive to new imports turned negative at the end of last week for the first time since July.
Shanghai's gold premium touched $40 in March before the Yuan price jumped to hit all-time highs in early May.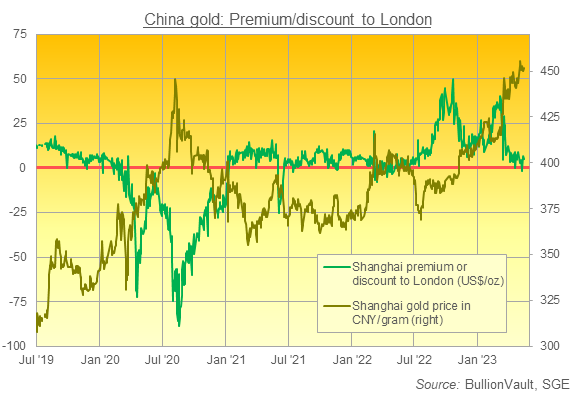 "Feedback from [China's] bank branches suggests that price rallies have prompted fresh interest from those investors who might traditionally not buy gold," says the latest weekly report by Metals Focus.
"Many of clients were genuinely worried that keeping their money in low-yield deposit accounts would erode the long-term value of their savings," says
Padraig Seif
, founding partner of Hong Kong based Precious Metal Asia.
China's retail gold investment in the first quarter of 2023 extened its post-Covid recovery, rising by 34% year on year according to the
latest report
from mining-industry's World Gold Council.
Turkey, No.5 gold-consumer nation, meantime appeared headed for a runoff presidential election on Monday after neither Tayyip Erdogan, its long-serving leader since 2002, nor his rival Kemal Kilicdaroglu cleared the threshold to win outright in yesterday's ballot, defying opinion polls calling for an opposition victory.
Turkey's Lira slipped to a fresh two-month low at 19.79 per Dollar in early trading, its weakest since a record low of 19.80 following last month's deadly earthquake and down 5% since the start of the year.
Bar and coin investment in Turkey reached phenomenal levels in the first quarter of 2023, breaching 50 tonnes for the first time on record with demand increasing 5-fold year on year as Turkish investors continued to seek the safety of gold, according to the WGC's report.
Inflation on Turkey's consumer price index surged to more than 85% last year, hitting Erdogan's popularity, although it slowed to 44% ahead of the election.
Prices for silver
, primarily an industrial metal, today edged higher after dropping $2 for the week on London benchmarking prices to show its steepest weekly plunge since October.
Platinum, which finds two-thirds of its demand from industrial uses, led by auto-catalysts, rose 0.9% to $1063 per ounce as industry group the World Platinum Investment Council (WPIC) said on Monday that a global deficit of platinum in 2023 will be 77% larger than previously expected due to supply constraints and higher demand.