Gold Price 'Resilient' as Interest Rates Rise, Stock Markets Wobble Ahead of Inflation Data
Monday, 2/07/2022 14:29
GOLD PRICES held near 1-week highs for Dollar, Euro and Sterling investors in London trade Monday as longer-term US interest rates held at their highest in 2 years and global stock markets continued to fluctuate ahead of this week's US inflation data, due out Thursday, writes Atsuko Whitehouse at BullionVault.
Priced in the Dollar, spot gold edged up 0.4% to $1815 per ounce, extending last week's 0.9% gain.
With 10-year yields holding that level Monday, the real interest rate implied by inflation-protected 10-year TIPS bonds also held firm at minus 0.48%, a little easier than Friday's peak at the least negative since June 2020.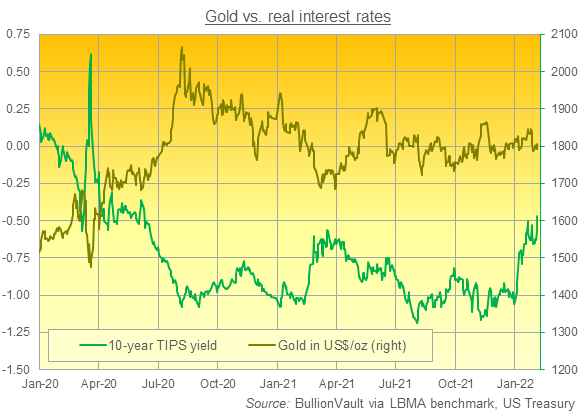 "Central to gold's
resilience is a combination
of elevated demand for portfolio hedges and a belief either that the Federal Reserve stays behind the curve on tackling inflation or overtightens, causing growth to falter," says Swiss bank and bullion market-maker UBS in a note.
UBS' models indicate that higher stock-market volatility so far this year, as signalled by the VIX index, is a key support pillar for gold prices.
Also known as "Wall Street's fear gauge", the Cboe Volatility Index rose to nearly 32 after the 'hawkish' US Federal Reserve statement and comments 2 weeks ago – the highest since January 2021 – and rose again to 24 last Thursday as shares in Facebook-owner Meta (Nasdaq: FB) plunged 26%, losing $230 billion for
the biggest 1-day wipe-out
in stock market history.
Thursday's US inflation report for January is expected by analysts to give an annual reading above 7%, the highest since the early 1980s.
"If we continue to see major moves in widely owned stocks, investors will get turned off" towards the stock market more broadly
reckons one trading consultant
quoted by Reuters.
"One thing is certain, volatility is here to stay."
Asian bourses slipped again except China, where the CSI300 index gained 1.5% after reopening from the week-long lunar new year holiday.
European stocks opened the week higher following Friday's late rally on Wall Street, but the EuroStoxx 600 index still shows a 5% loss for 2022 so far.
US index futures meantime dipped ahead of Monday's opening in New York after the S&P500 and Nasdaq Composite notched their best weekly performance since before Christmas, advancing by 1.6% and 2.4% respectively despite Thursday's sell-off.
Overall, the S&P and Nasdaq are now down 5.6% and 9.9% so far this year.
The gold price in Dollars ended 2021 at $1820 per ounce, $5 above Monday's level.
Gold prices for European investors meantime rose 0.4% today to €1585 per ounce while European Central Bank governing council member Klaas Knot said he expects the 19-nation currency zone to see the first post-Covid rate rise
before the end of this year
.
Eurozone bond yields rose further in response, with Germany's 10-year Bund rate offering new buyers a positive return of 0.24% after last week snapping a run of negative yields starting in May 2019 after ECB President Christine Lagarde – speaking to journalists after the central bank's "no change" decision on Thursday – failed to repeat previous comments that a 2022 rate hike looks very unlikely.
UK gold prices
also rose Monday – up 0.5% to 1-week highs of £1342 per ounce – as the yield on 10-year UK Gilts reached 2019 levels at 1.40% per annum after the Bank of England last week made its 2nd consecutive rate increase, taking Bank Rate to 0.5%.
Four of the nine-member monetary policy committee voted to hike rates to 0.75%.
UK house prices hit
new record highs
last month, the Halifax mortgage lender said Monday.
Gold prices on the Shanghai Gold Exchange meantime returned from the Lunar New Year holidays – now the world's heaviest single consumer gold-buying festival – to show a premium to London quotes of $5 per ounce, in line with pre-holiday levels but only a little more than half the typical incentive for new bullion imports into China, the No.1 gold consumer nation.
Friday's opening day of the Winter Olympics in Beijing saw the leaders of China and Russia declare
a "no limits" partnership
, backing each other over stand-offs with the US and Nato over Ukraine and Taiwan, with a promise to collaborate more against what they cast as Western interference and control.
"Real rates will remain negative and a possible rise in trade and geopolitical risks
could aid gold
," says James Steel, analyst at global bank and bullion market-maker HSBC, in the new
2022 Forecast
Survey published by industry body the London Bullion Market Association.
"Any increases in financial market instability or uncertainty could also spark quality asset demand for gold."