Gold in Dollars Hits 8-Month High Ahead of US Inflation Data, UK Price £1550
Wednesday, 1/11/2023 14:30
The GOLD PRICE slipped $10 per ounce from a new 8-month high near $1890 on Wednesday in London, edging back ahead of tomorrow's key US inflation data as soft Western investment flows contrasted both with the precious metal's strong New Year 2023 price action and also with solid private-sector demand in China ahead of this month's Lunar New Year holidays, now the world's No.1 gold-buying festival ahead of Diwali.
With the Dollar weakening again on the FX market, Euro gold prices fell more than €10 below last weekend's level of €1758 per ounce.
But the UK gold price in Pounds per ounce again topped £1550, a level seen or exceeded only 3 times before – first on gold's Covid first-wave peak, then on Russia's latest invasion of Ukraine, and then amid the Conservative Government's
'mini budget' crash in Sterling and Gilts
last September.
"With US automotive fuel prices down by over 12% in December," says one analyst, "[the month-on-month cost of living on]
CPI should decline
for [only] the second time since 2020.
"Anything other could cause a mini wipeout" in financial markets including stock markets and fixed-income bonds.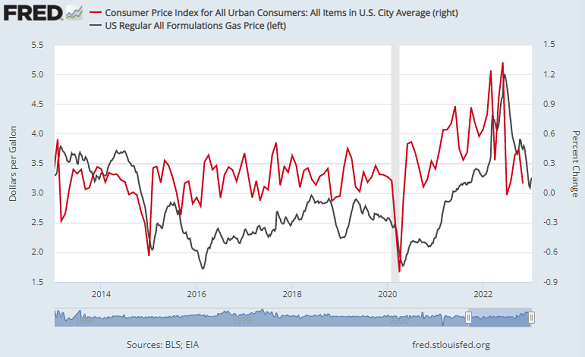 Ahead of Thursday's US Consumer Price Index data, global stock and bond markets also extended their New Year gains meantime Wednesday, while crude oil rose again and natural gas prices rebounded from the lowest prices in over 12 months.
Almost
4-in-5 bets on next month's Federal Reserve decision
now see the US central bank raising interest rates by only 0.25 points after slowing the pace of increase from 0.75 to 0.50 at the December meeting as the headline pace of inflation slowed to 7.1% per year from June's 4-decade peak of 9.0%.
With the Chinese Yuan easing back today from Tuesday's new 4-month highs against the US Dollar, the premium above London quotes for physical gold landed in Shanghai also slipped from its highest in 4 months, offering importers an incentive equal to $22.60 per ounce – almost 3 times the longer-term historic average.
That came even as Yuan prices for Shanghai gold hit their highest in 10 months.
"Amid a chaotic exit from Covid lockdowns, China is looking to
reduce its international isolation
and boost its growth rate," says a long read in the
Financial Times
, reporting how "several Chinese officials in private conversations with the [newspaper] strove to put clear daylight between Beijing and Moscow on the issue of Ukraine.
"Putin is crazy," the FT quotes one un-named Beijing offical.
But "the real policy
might be very different
" according to political analyst Alexander Gabuev, senior fellow at the Carnegie Endowment, saying that Beijing is trying to placate Western leaders while not actually taking any action against Moscow.
With the Moscow-backed Wagner mercenary group
claiming Russia's first victory
against Ukrainian forces for several months on Wednesday, Russia's government
budget deficit widened again
in December, new data show, despite Moscow's full-year revenues from taxing oil sales rising by 1/3rd and from taxing natural gas more than tripling in Ruble terms.
With EU and other sanctions now blocking those exports, "Russia is heading into the new year without this big cushion, with much lower oil prices and lower oil export volumes,"says German economist Janis Kluge at Institute for International and Security Affairs.
"This is going to be a big problem."
In contrast to strong Chinese inflows, Western gold investment in contrast was muted on Tuesday, with the giant GLD gold ETF – unchanged in size on Monday – shrinking by 0.1% yesterday to its smallest since before Christmas while the SLV silver trust fund saw 0.2% net liquidation.
Gold's volatility meanwhile left silver prices little changed around $23.75 per ounce Wednesday.
That edged down the
Gold/Silver Ratio
– a simple measure of the yellow metal's value in terms of the more industrially-useful gray metal – almost 1 ounce lower from yesterday's reading of 79.7, a 7-week high.