Gold Bullion 'Loses Bank-Crash Bid' Ahead of the Fed, China-Russia 'Change the World'
Wednesday, 3/22/2023 14:56
GOLD BULLION dipped to 1-week lows for UK and Euro investors on Wednesday but held firm against a weaker US Dollar ahead of the Federal Reserve's March interest-rate announcement – a decision now deeply complicated by the crash of Silicon Valley Bank and 2 other US lenders.
Trading around 3-session lows above $1940 per ounce in London, gold bullion briefly slipped beneath €1800 and £1580 before rallying a little as the China-Russia meeting between presidents Xi and Putin in Moscow ended with warm words on their friendship but no new proposals on Beijing's "peace plan" for Ukraine.
Betting that the US central bank will end 2023 with its key interest rate at or above today's level of 4.75% has
leapt back towards 1-in-2
, surging from last Wednesday's odds of 1-in-100 but still less than 1/2 the dead-sure 100% certainty seen this time last month.
Inflation in world No.6 economy the UK failed to slow as expected last month, new data said Wednesday, running well above 10% and raising expectations for a Bank of England rate rise at its meeting tomorrow.
But despite US inflation remaining at what would be 4-decade highs outside of last summer's peaks, the path for Fed rates ahead now continues to point lower according to market forecasts
gathered by the Atlanta Fed
.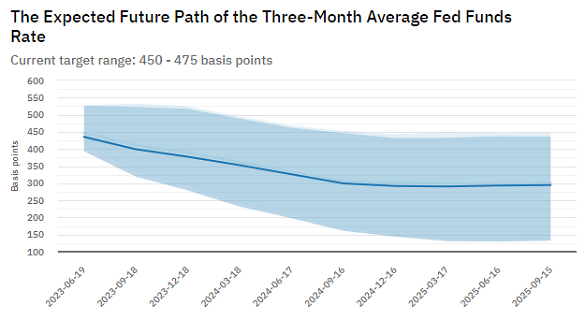 "Gold has
eased lower
as safe-haven demand dissipates," Reuters quotes Singapore bank OCBC's forex strategist Christopher Wong.
"It does appear that banking sector wounds are showing tentative signs of recovery after the emergency backstops and assurances from authorities."
Following last week's failure and
government-agency resolution of SVB
, the assets and deposits at failed crypto-sector specialist Signature Bank (Nasdaq: SBNY) are being bought by a subsidiary of New York Community Bancorp (NYSE: NYCB), while regional bank First Republic (NYSE: FRC) – whose balancesheet resembles the failed Silicon Valley Bank in holding many loss-making mortgage bonds and other investments against a heavy burden of large, uninsured deposits – has
hired investment bank Lazard
to join US giant J.P.Morgan in helping it "explore strategic options."
Shares in FRC today edged 1.2% higher after sinking by 7/8ths so far this month.
The US banking failures of recent weeks are
"very different" from what happened in 2008
according to US Treasury Secretary Janet Yellen, but she stands ready to back-stop the savings of all bank depositors if panic spreads, she told lawmakers Tuesday.
Longer-term rates in the bond market today extended their rebound from last week's sudden 6-month lows, while so-called real yields – meaning the rate offered to buyers of 10-year inflation-protected Treasury bons – held little changed around 1.33% per annum, higher by almost 2 whole percentage points higher from this time last year.
Twelve months into defending itself against Russia's invasion, embattled Ukraine is set to receive €2 billion of ammunition from the European Union and will
become the first at-war nation
to receive a loan from the International Monetary Fund, news reports said today.
China's 12-point 'peace plan', released last month,
calls for a ceasefire and talks
, plus an end to "abusing unilateral sanctions" (ie, those aimed at Russia by the US and Europe) while stressing that national sovereignty should be upheld but condemning a "Cold War mentality" that seeks to achieve security "by strengthening or expanding military blocs."
"Russia-China relations have reached the highest level in their history and
are gaining even more strength
," writes Putin in a column for today's
China Daily
, reciprocated with a more subdued piece from Xi in
Rossiyskaya Gazeta
.
"Where we are united, now there is peace."