Gold ETFs Expand, Price Hits Record Yen High as Russia Denies Talks with US Over Ukraine
Monday, 2/21/2022 15:07
GOLD PRICES spiked and then retreated from fresh multi-month highs on Monday, setting a new all-time high in Japanese Yen and rising almost 6% for February so far in Dollar terms as global stock markets fell amid disagreement between Washington and Moscow over plans for presidents Biden and Putin to meet and avert war in Ukraine, writes Atsuko Whitehouse at BullionVault.
Last week saw further investor inflows to
gold-backed ETF trust funds
, while longer-term interest rates slipped from multi-month highs in the bond market and money-market traders trimmed their bets that the US Fed will raise overnight Dollar interest rates by a half-point at next month's policy meeting.
The
US core PCE price index
, the Fed's preferred inflation reading, will be published for January this Friday. Economists expect it to accelerate from December's 4-decade high of 4.9% to 5.1% per annum.
Jumping to $1908 per ounce in early Asian trade – its highest since 2 June 2021 – gold bullion priced in the US currency fell $15 before steadying to show a climb of 5.8% since the end of last month.
Gold prices for UK investors hit 14-month highs at £1403 per ounce and the Euro price hit 18-month high at €1686, showing month-to-date gains of 4.5% for both currencies.
Wholesale bullion meantime recorded a fresh all-time high for Japanese investors at ¥7048 per gram, beating its previous record of ¥7039 from 6 August 2020.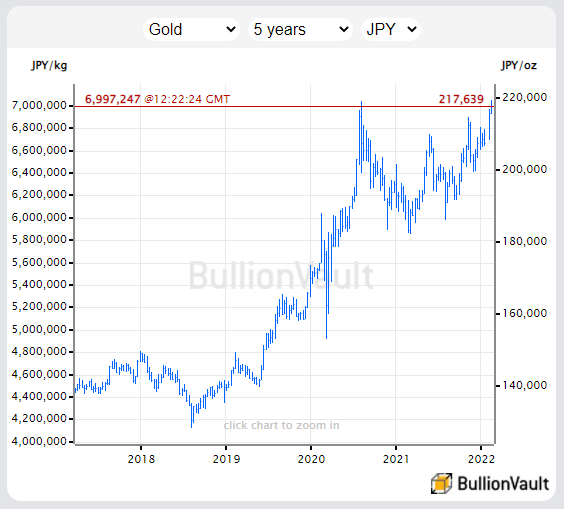 French President Emmanuel Macron
claimed overnight
that US President Joe Biden and Russian President Vladimir Putin have agreed in principle to hold a summit on the Ukraine crisis.
But European stock markets then erased an early gain – with the EuroStoxx 600 index dropping to a 1-week low – after the Kremlin said there are
"no concrete plans"
for such a summit, while Macron's office and the White House said the details would be agreed by US Secretary of State Antony Blinken and Russian Foreign Minister Sergei Lavrov when they meet on Thursday.
"A summit would be held only if Russia did not first invade Ukraine," said the US press Secretary Jen Psaki last week.
While Russia denies any intention to invade, the defence ministry of ally Belarus announced that Russia would extend military drills in the country – which also borders Ukraine – due to end Sunday.
Markets in the United States are closed Monday for the Presidents Day holiday.
"As weaker US economic data starts to come through, we would expect gold [ETF]
inflows to accelerate
as investors partly shift out of equities," reckons US investment bank Goldman Sachs' analyst Mikhail Sprogis.
Gold-backed ETF trust funds expanded as a group last week, with both the SPDR Gold Trust (NYSEArca: GLD) and the iShares gold ETF (NYSEArca: IAU) – the world's largest such products – seeing net investor inflows.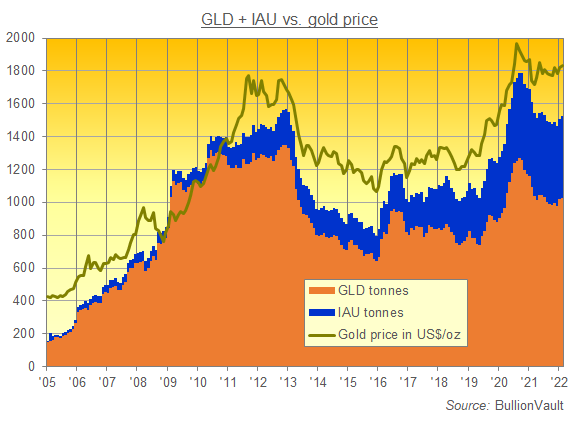 The New York-listed GLD grew by 0.5% to need an additional 48 tonnes of bullion backing since New Year.
The GLD shrank by 195 tonnes in 2021 after expanding by 278 tonnes amid the Covid Crisis of 2020, with gold prices setting current all-time highs above $2000 per ounce.
Giant silver ETF the iShares Silver Trust (NYSEArca: SLV) meantime expanded 1.2% last week and by 3.8% for this year to date, adding 634 tonnes since 1 January.
The SLV shrank by 738 tonnes in 2021 after surging 6,099 tonnes in 2020.
Monday's action saw
the price of silver
– primarily an industrial metal – edge lower by 0.6% to $23.77 per ounce.
Platinum, which finds two-thirds of its demand from industrial uses – increasingly as a fuel-cell catalyst in hydrogen energy technology – rose 0.8% to $1080 per ounce.
"Personally, I don't see any compelling argument to take a big step at the beginning," said John Williams, president of the Federal Reserve Bank of New York, on Friday, pushing against the idea of a 0.5 percentage point hike in March.
"The potential for a [inflation-induced] monetary policy error and elevated recession risks are providing support" for gold ETFs and prices, says US finance giant Citigroup's analyst Aakash Doshi, forecasting $1950 by end-May.
According to the CME exchange's
FedWatch tool
, a little over 1-in-6 bets on March's Fed decision now see a 50 basis-point hike, down from 2-in-5 a week ago.