Gold Bullion Holds 1.1% Plunge Despite Turkey-US Tensions, German 'Crisis'
Tuesday, 11/21/2017 14:07
GOLD BULLION held onto yesterday's 1.1% plunge in Asian and London trade Tuesday, moving sideways as world stock markets rose with government bond prices despite the threat of fresh elections in Germany and the rapid escalation of political tensions between Nato military alliance members Turkey and the United States.
With commodities holding firm overall, gold bullion traded at $1276 per ounce as the start of US trade approached.
Versus the Dollar, the single-currency Euro retreated to a 1-week low near $1.17, down 1.5 cents from last week's 1-month highs.
That failed to put gold priced in Euros back above EUR1090 per ounce however.
Ahead of UK Chancellor Philip Hammond presenting his 2018 Budget to Parliament on Wednesday, pro-Brexit members of the Cabinet meantime agreed to offer the European Union
up to £40bn in a "divorce" settlement
, sources report.
The UK gold price in Pounds per ounce today held near Monday's 2-week lows at £965.
Gold bullion in Turkish Lira meantime hit new all-time highs as the
currency sank to new all-time lows
versus the Dollar amid a worsening diplomatic row between Ankara and fellow Nato member the United States.
"The Zarrab case
aims to damage Turkey's ties
with Iran, Russia and other countries," said a spokesman for the government of Recep Tayyip Erdoğan, pointing to the US prosecution of a politically connected gold trader for breaching UN sanctions over Tehran's nuclear weapons program and smuggling bullion to Turkey's Shia Islam neighbor.
"[This] is a clear plot against Turkey, a political case lacking any legal basis," the spokesman went on, relaying comments from a meeting of the Turkish cabinet today.
So far in 2017 Turkey has imported a record $13.8bn of gold, Bloomberg reported earlier this month, more than 3 times last year's level.
The central bank in Ankara has grown its gold bullion
reserves to a 3-year high
. Consumer demand has also risen sharply according to data compiled for mining-backed market development organization the World Gold Council.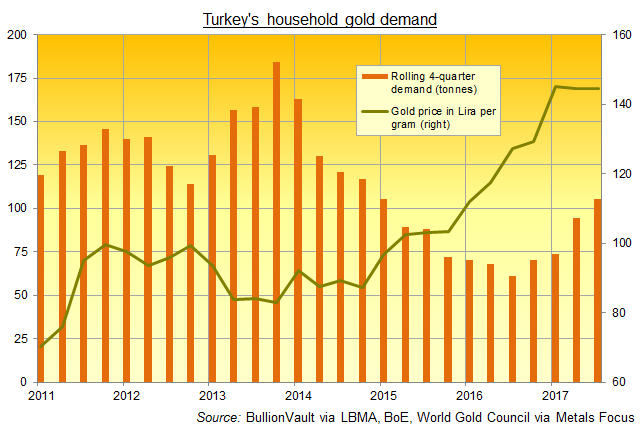 Moore is also reported defending Ankara's purchase of Russian missile technology, as well as
"welcoming" Turkey's talks with Russia
and Iran over the crisis in Syria, whose Iran-backed dictator Bashar al-Assad yesterday met with Russian president Vladimir Putin.
Anti-Erdogan cleric Fethullah Gülen, now a resident of the US – and the target of
an alleged kidnap plot
involving President Donald Trump's security advisor Michael Flynn – stands accused of fomenting 2016's failed coup in Ankara, for which
40 people were sentenced last month
to life imprisonment.
"Why are trucks loaded with weapons
coming to northern Syria
? Which country are you preparing this armament against?" Erdoğan asked of apparently US-supplied arms at a meeting of Turkey's ruling AKP party today.
"No one should expect Turkey to sit back with its hands tied."
Meantime in Germany, "There has rarely been such political uncertainty at any time in the country's post-war history," says financial services group Commerzbank its latest bullion-market note after the weekend's collapse of coalition talks following September's inconclusive elections.
"The sticking point is
Merkel's "welcome policy"
[for Syrian refugees], which she does not want to distance herself from, although she has long since been forced to change it," says financial newspaper
FAZ
publisher Holger Steltzner.