Price of Gold Bars Rallies with 'Tail Risks' as ETFs Expand, China Fears US-N.Korea Strike, Trumps Moves Israel Embassy
Wednesday, 12/06/2017 14:12
GOLD BARS rallied from yesterday's 9-week low in Asian and London trade Wednesday as global equities slipped with commodity prices amid rising tensions over Washington's policies in both the Middle East and towards rogue state North Korea.
A Chinese state-run newspaper today gave readers near the border with North Korea a page of
"common sense" advice
for the event of a nuclear strike.
President Donald Trump was meantime scheduled to announce later today that he is moving the US Embassy in Israel from Tel Aviv to Jerusalem -- a move spurring Palestinian protests and condemned as
unnecessarily provocative by Washington's allies
across the Middle East and Europe.
As the Dollar price of wholesale gold bullion bars gained $6 from Tuesday's low at $1261.80 per ounce, world stock markets fell again after US equitis closed lower overnight for the third time running since last Thursday's new all-time high.
With the current "suspension" of the United States' official debt ceiling set to expire on Friday, risking a shutdown of government departments, "few economists think Trump's tax cuts" – now approved by the Senate and forecast by the Congressional Budget Office to widen the gap between revenues and outlays by
$1.4 trillion over 10 years
– "will spur growth,"
says Newsweek
.
Last week's Senate approval of Trump's "extensive tax cuts...[saw] market participants regain their risk appetite, so the gold price fell," reckons bullion market analysts at Germany's Commerzbank.
But "tax reform is not completely negative for precious metals from a macro perspective," says Japanes conglomerate Mitsubishi's strategist Jonathan Butler in his latest weekly analysis.
"With a risk of the reforms blowing a hole in the budget [to] send the US budget deficit skyrocketing, gold and precious metal may still retain some support from tail risk hedging."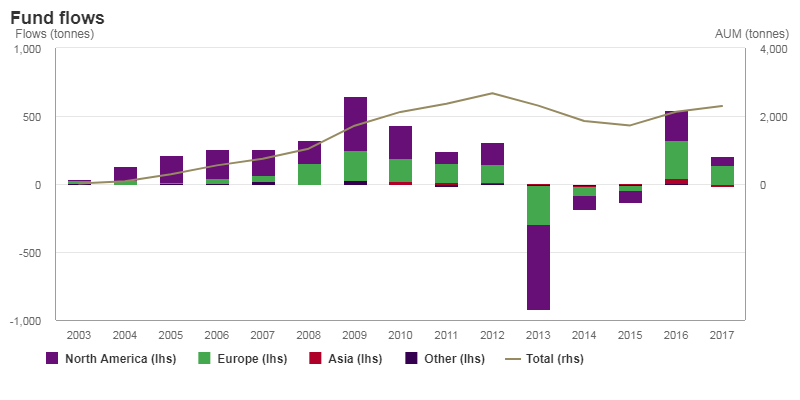 Investors using trust-fund products backed by bullion bars to gain price exposure last month grew their total position by 0.4%
according to data compiled
by mining-backed market development organization the World Gold Council.
But while investor demand for new shares took the amount of gold bars needed to back these exchange-traded trust funds worldwide up some 9 tonnes to a new 2017 high at 2,357 tonnes, the largest single ETF –- the New York-listed SPDR Gold Trust ( NYSEArca:GLD) –- shrank by 11 tonnes.
Outweighing that outflow, "Global inflows were concentrated in Europe," says the World Gold Council, with lower-cost US fund the iShares Gold Trust (NYSEArca:IAU) also growing alongside German-listed gold ETFs designed to give investors exposure to the gold price in Euros.
Gold bullion bars today retreated near last week's 4-month lows against the single Euro currency, slipping to EUR 1068 per ounce.
The UK gold price in Pounds per ounce
meantime rallied £10 per ounce from Tuesday's new 5-month low of £938 as Sterling fell amid fresh wrangling both in Parliament and within the Conservative Government of Theresa May over the now stalled Brexit negotiations with the European Union.
Meantime in Ankara, the Chief Public Prosecutor's Office today launched a fresh investigation into Turkey's opposition CHP leader Kemal Kılıçdaroğlu for "allegedly insulting the president" with claims that Recep Tayyip Erdoğan
assisted and covered up
sanctions-busting involving gold bars shipped to rogue state Iran, now exposed by the trial in New York of a senior Turkish banker.
Erdoğan himself filed a criminal complaint against Kılıçdaroğlu this morning.
The
Hurriyet newspaper says
that Erdoğan yesterday linked the testimony of Iranian-Turkish gold trader Reza Zarrab to US policy over Syria, from where Washington wishes to distract attention so it can "facilitate the establishment of a terror state in Turkey's southern neighbor", referring to Kurdish independence group the YPG.