Gold Bars Find 'Far East Support' Above $1300 Before Fed Vote, GLD ETF Grows on Price Drop
Wednesday, 9/20/2017 13:32
GOLD BARS traded in London's wholesale bullion market halved this week's 1.1% drop ahead of the US Federal Reserve's September rates decision on Wednesday, rallying as the Dollar fell on the currency market.
Peaking at $1315 per ounce, the price of large 400-ounce gold bars rose as the Euro hit a 1-week high of $1.20 and the Mexican Peso rose from 2-week lows to the Dollar despite the powerful earthquake which
killed at least 220 people in Mexico City
on Tuesday.
Major economy bond prices rose, edging yields lower before the Fed, while global stock markets held flat overall after the MSCI World index set a fresh record high on Tuesday.
A rise in the Chinese Yuan held gold bar prices in Shanghai little changed, edging the No.1 consumer nation's premium above quotes in London – the global hub for bullion storage and dealing – up to a 5-week high above $7 per ounce, still below the average $9 incentive for new imports.
After "seeing solid underlying interest above $1300" on Tuesday, bullion bars today found "decent physical interest out of the Far East," reports the Asian trading desk of Swiss refining group MKS Pamp.
With gold prices "static" yesterday, "Support remains unchanged at the $1300 level," agrees a technical analysis from bullion bank Scotia Mocatta's New York office, pointing to "the 38.2%
Fibo retracement level
of the July low [to] September high range."
Wednesday morning's benchmark
LBMA Gold Price auction
in London was quiet, fixing at $1314.90 per ounce on interest two-thirds below last month's average volume.
Because the Federal Reserve is 99% certain to leave rates and QE holdings unchanged according to betting in the futures market, "The press release that goes with the announcement is what is important," says London broke David Govett at Marex Spectron.
For gold trading on Wednesday, "This will no doubt create turmoil for ten minutes before everyone comes back to their senses."
Gold is
currently "under-owned"
by investors says a report from UK asset managers Schroders, warning of "complacency" in equity and bond markets and pointing to how gold-backed ETFs accounted for 10% of the value held in exchange-traded trust funds at their peak of 2012, but only 2% today.
"For gold, in a world still awash in liquidity and with financial asset values very high, this is positive."
Tuesday's drop in gold bar prices saw the largest such gold ETF – the New York-listed SPDR Gold Trust (NYSEArca:GLD) – expand to its largest size since early, needing an extra 2 tonnes of bullion to back its shares as investor interest grew.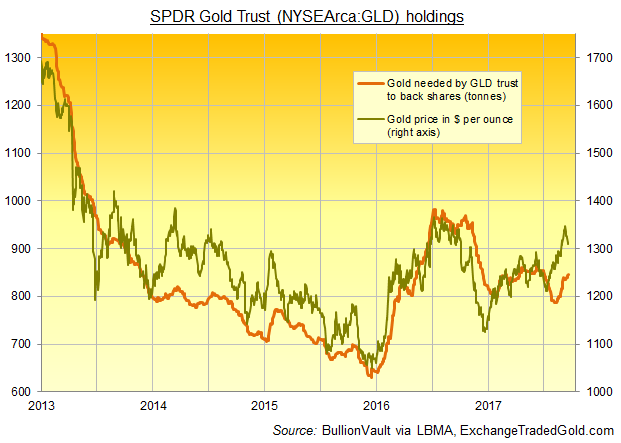 Reaching a total of 846 tonnes at last night's close, the GLD's gold bar holdings peaked at 1,353 tonnes in late-2012, averaging 823 tonnes overall since it was launched in late 2004.
Wholesale gold bar prices have rallied because "the Dollar is under pressure ahead of the Fed," reckons Dutch bank ABN Amro's analyst Georgette Boele.
"But I think it's more to do with [Tuesday's] comments from [Donald] Trump [to the United Nations], which are affecting the Dollar and indirectly gold as well."
Trump's inaugural speech to the UN in New York – in which he threatened "to totally destroy North Korea...if [the US] is forced to defend itself or its allies" – saw key world leaders Xi of China, Putin of Russia and Merkel of Germany fail to attend, notes Bloomberg News.
Sunday's national elections in Germany – expected to deliver a
landslide for Chancellor Angela Merkel
's centrist CDU coalition – will come one day before a vote on independence for the Kurdish region of northern Iraq, now
declared illegal
by the Supreme Court in Baghdad.
Spain's civil guard today
detained Catalan minister Josep Maria Jové
and 13 other leading figures from the regional government in a series of early-morning raids aimed at preventing a referendum on independence, scheduled for 1 October but also now deemed illegal by judges in the national capital.