Silver Jumps to $24 as Gold Gains, Fed Rate Bets Sink on Weak US Data
Thursday, 11/16/2023 16:23
GOLD ROSE but silver leapt again on Thursday against a fast-falling Dollar, reaching 1- and 10-week highs respectively as US data continued to signal a slowdown in the world's No.1 economy.
"It continues to be a good week for the Fed," says one spread-betting pundit of the US central bank.
With the Senate
passing a 'stopgap' funding bill
overnight to avert a government shutdown due to start tomorrow, US stock markets slipped for only the 3rd session in 12 in November to date.
The Dollar gold price meantime rose to $1986 per Troy ounce, some 2.3% higher for the week so far, while silver prices jumped to $24 per Troy ounce – up more than $2 from Monday's 5-week low – to reach the highest since early September.
That pulled
the Gold/Silver Ratio
– a simple measure of the 'safe haven' metal's price in terms of more industrially-useful silver – down to 83 from last week's 8-month peak at 88.
Across the last half-century, the Gold/Silver Ratio has averaged 58 ounces of silver to 1 ounce of gold, rising from an average 31 in the 1970s to 81 so far this decade.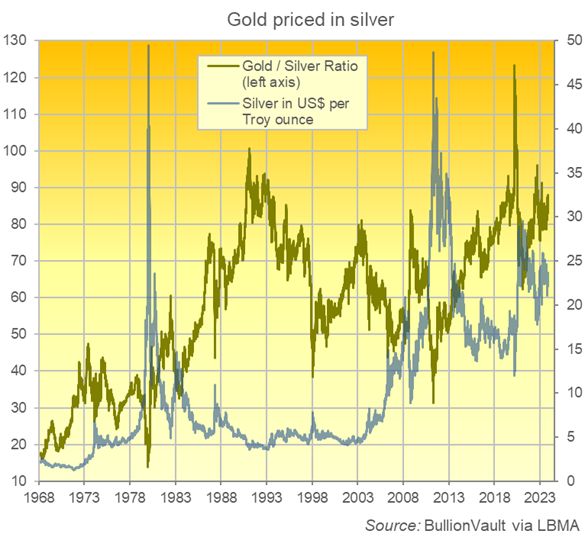 After Tuesday's consumer-price index said
US inflation slowed in October
to a 2-year low of 4.0% on the 'core' measure, yesterday's US data said retail sales slipped 0.1% from September.
US industrial output meanwhile fell at the worst pace since December, new figures said Thursday, dropping 0.6% month-on-month, with
sentiment among US housebuilders
also now the worst since the end of 2022 on today's NAHB survey.
Claims for jobless benefits jumped last week, says the US Department of Labor, while crude oil stockpiles leapt dramatically – suggesting a plunge in energy demand – on the EIA latest figures.
Betting on the
future path for Fed rates
now puts the odds of a cut in May at 2-in-3, with less than 14% of betting on the June 2024 decision expecting no change from the current 2-decade high of 5.50% per annum.
Looking at silver investment ETF trust funds, "the bulk of year-to-date redemptions reflect continued monetary tightening and its consequential boost to yields, especially in real terms," said Philip Newman, managing director at independent consultancy Metals Focus, presenting a year-end update to the
Silver Institute's annual industry dinne
r in New York last night.
Yesterday's price jump in silver saw the giant SLV silver ETF shrink 0.2% in size, reaching its smallest in a week.
The giant GLD
gold ETF
meantime didn't change in size for a 2nd session running, holding at its largest in almost 2 weeks, while the IAU gold trust shrank to a new April 2020 low, down 0.1% in size from Tuesday.
"Globally, total silver demand is forecast to ease by 10% in 2023," Newman says, with "gains in industrial applications will be offset by losses in all other key segments."
Small bar and coin demand is set to drop 21% to a 3-year low on
Metals Focus' data
– led by rising consumer selling and weak purchases in India and China – while silver-backed ETFs will finish 2023 with a 2nd consecutive year of net investment outflows.