Gold Price Drops as Real Rates Rebound, Fed's Inflation Fight 'Not Finished'
Tuesday, 11/07/2023 15:57
GOLD PRICES fell to 2-week Dollar lows and hit the lowest for UK and Euro investors since mid-October in London trade Tuesday, extending last week's retreat from new all-time highs despite the continuing Hamas-Israel war as longer-term interest rates reversed a little of last week's drop.
"Gold...largely ignored last week's
decline in [bond] yields
and the US Dollar," says strategist Nicky Shiels at Swiss bullion refining and finance group MKS Pamp.
"So with [that] now reversing, it only makes sense that downsides [in the gold price] will be tested as geopolitics – as sadly is usually the case in financial markets – becomes 2nd page news."
After rising to the highest in more than 5 weeks on Friday, US Treasury bond prices fell back Monday, pushing 10-year conventional yields 0.1 points higher to 4.67% – the highest since 2007 when reached at the start of last month, but 1/3rd of a percentage point below mid-October's new 16-year peak.
Inflation-adjusted bond yields have also reversed some of last week's drop, trading up to 2.21% on 10-year TIPS bonds early Tuesday.
Over the last 2 decades, gold prices and the 10-year TIPS yield have moved in the opposite direction to each other 67.1% of the time from 1 year before. But they have now both been higher from 12 months previously without any break since mid-March.
Last time that TIPS yields traded at last week's 15-year high of 2.52% per annum, the gold price in Dollars was more than $1000 lower at $815 per Troy ounce.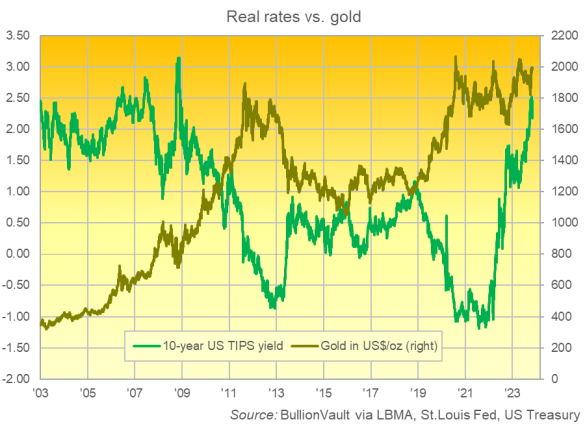 "Gold has insufficient support to
clear $2000 for now
at least," says brokerage StoneX's bullion-market specialist Rhona O'Connell.
"[It] was overbought at [that level] and has enjoyed a much-needed period of consolidation. [And] while other asset classes were volatile towards the end of last week, gold was resoundingly stable –one of its primary characteristics."
"The economy has proved to be really resilient even though we've raised interest rates a lot over the past couple of years. That's good news."
Following the inaction of the Fed, European Central Bank, Bank of Japan and the Bank of England at their latest rate decisions, the Reserve Bank of Australia today raised its key interest rate for the 13th time since May 2022, taking the cost of borrowing to a 12-year high of 4.35%.
The Aussie Dollar fell on the news, keeping the gold price in AUD per ounce unchanged from the weekend's 2-week lows around A$3060.
Even before today's RBA decision, and with average house prices almost doubling from just 10 years ago, nearly
1-in-2 home-buyers was already in "mortgage stress"
according to the Australian National University, paying out 30% or more of their disposable income to service that debt.
"High
inflation is weighing on people's real incomes
and household consumption growth is weak, as is dwelling investment," said RBA governor Michele Bullock, repeating that "the Board remains resolute in its determination to return inflation to target."
The
UK gold price in Pounds per ounce
meanwhile fell back through £1600 on Tuesday while Euro gold prices dropped as low as €1832, down 3.6% from late-October's retouch of all-time highs.