Gold Jumps, Silver Leaps as Soft US Inflation Data Crushes Bond Yields
Tuesday, 11/14/2023 15:44
The GOLD PRICE jumped and silver prices leapt against a plunging Dollar on Tuesday as commodities and Western stock markets also rose sharply following softer-than-expected US inflation data, cementing the market consensus that the US Federal Reserve is done raising interest rates.
With both headline and core inflation slowing on the first estimate for October, the Dollar sank more than 1% against the rest of the world's major currencies, dropping to a 2-month low on its trade-weighted DXY index.
Gold priced in the Dollar reversed 2/3rds of the previous 5-session drop, gaining nearly $40 from Monday morning's 3-week lows to reach at $1967 per Troy ounce.
The
UK gold price in Pounds per ounce
in contrast set a new 4-week low beneath £1574 while the Euro gold price held lower for the week so far at €1812 after touching its cheapest in a month during Asian trade yesterday.
The silver price meanwhile rose in most currency terms, leaping to $23.15 against the Dollar to reverse almost all of the past week's $1 plunge.
US bond prices also jumped with gold and silver, sending 10-year Treasury yields down by almost 1/5th of a percentage point to the lowest since mid-September at 4.46% per annum.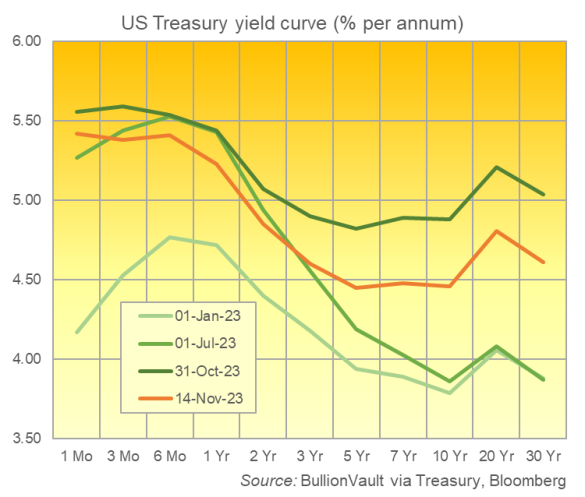 Having
steepened dramatically
from this summer's
multi-decade deep 'inversion'
of longer-term rates trading beneath shorter-term borrowing costs, the gap between 10-year and 2-year yields has now widened again, rising from barely 0.2 points at the end of October to nearly 0.4 points today.
"Fed officials have become increasingly data sensitive," said a trading note from bullion refining and finance group MKS Pamp ahead of the inflation data, "and this is the last CPI print before the important Dec [meeting] in which the rates market is looking for a more dovish outcome."
Betting on next month's Fed decision leapt to put a 99.7% certainty on the US central bank holding its overnight interest rate unchanged yet again at a 2-decade high – erasing the 1-in-7 positions which yesterday predicted a rate rise from the current ceiling of 5.50% per annum according to the CME derivatives exchange's
FedWatch tool
.
Tuesday's steep rebound in gold came after new data yesterday – delayed by Friday's Veterans Day holiday – said speculators in Comex gold futures and options last week trimmed their bullish betting on the precious metal's price as a group by 3.4% after
growing it at a near-record pace
following Hamas' terrorist attacks in southern Israel.
Giant
gold-backed ETF
the GLD meantime expanded for a 2nd session running on Monday's price drop, growing by 0.3% in size to the latest since before the 7th October atrocities.
With the US government set to go into 'shutdown' this Friday unless a new budget deal is struck in Washington, financial support for both Israel and Ukraine remained a key point of contention Tuesday for
'hardline' Republican politicians rejecting
the
proposed stopgap
from newly-elected House Speaker Mike Johnson.
Stopping short of calling for a ceasefire, "Too many civilians are losing their lives," said UK Prime Minister Rishi Sunak in a speech Monday, calling on Israel to "take all possible measures" to
stem the death-toll in Gaza
as it pursues Hamas in a bid to destroy it.