Gold 'Under Pressure' as US Inflation Dip Fails to Cool Fed Rate Forecasts
Wednesday, 9/13/2023 15:23
The GOLD PRICE steadied against a weaker US Dollar on Wednesday, heading into London's afternoon benchmark auction $5 per ounce higher from yesterday as new US data said the underlying rate of inflation in the world's largest economy slowed last month as analysts expected.
While the headline cost of living accelerated 0.5 points from July's pace to show 3.7% annual inflation, the 'core' measure – excluding fuel and food – edged back to 4.4% on a seasonally-adjusted basis, the slowest increase since September 2021.
Betting that the Federal Reserve might raise interest rates again from their current 2-decade high at next week's meeting fell to 5.0% of trader positions according to
data from the CME
derivatives exchange, barely half the level of this time last month and the lowest since late May.
But market forecasts for when the Fed will then start to cut US interest rates edged further ahead, with the consensus bet for May 2024 predicting a rate of 5.29% per annum, only just below today's
effective Fed Funds rate of 5.33%
.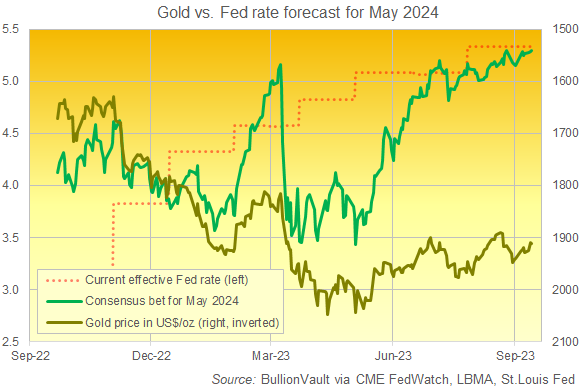 "Gold under pressure," says bullion-market analyst Rhona O'Connell at brokerage StoneX of the technical picture, with the 20-day and 200-day moving averages converging as the 10-day average moves above current spot prices.
Like gold, global stock markets also slipped again before the US inflation data, losing value for the 5th of 9 sessions so far in September as giant software and tech brand Apple (Nasdaq: AAPL) extended its retreat from the summer's run of fresh all-time highs, dropping towards late-August's 3-month low after
yesterday's much-hyped launch
of the iPhone 15.
As a group, tech stocks in the S&P500 index of US corporations have risen 23.7% over the last 12 months. The
rest of the index
has risen just 3.4%.
UK Gilts meanwhile bucked a wider drop in Western government debt prices, rising to push London's 10-year borrowing cost down to the lowest so far this month at 4.36% per annum after
new GDP data
said the world's 6th largest economy shrank 0.5 percentage points in July, reversing June's surprise growth.
UK gold prices held near 2-week lows at £1530 per Troy ounce, while Euro gold rallied 0.3% from its cheapest so far this month to trade back at €1781.
The
Shanghai gold price
– benchmark for China, the precious metal's No.1 consumer nation – had earlier fixed at yet another fresh all-time record, widening the gap to London quotes to almost $100 per Troy ounce, twice the highest level seen prior to this current surge.