Gold Price Hits $2000 as UBS/CS Rescue 'Kills' Key Bank Funding
Monday, 3/20/2023 14:31
GOLD PRICES leapt early Monday, peaking above $2000 per ounce for US investors and setting new all-time highs in many major currencies before easing back as the "shotgun wedding" of Swiss bank UBS agreeing to buy its rival Credit Suisse left the Western financial system facing widespread uncertainty, writes Atsuko Whitehouse at BullionVault.
Spot gold bullion prices in the US Dollar hit 1-year highs at $2009 per ounce before dropping $50 to show only a small gain from Friday evening's London close.
Gold in other currencies also steadied after paring the earlier jump, which had pushed gold priced in Euros up to €1885 per ounce – within 0.9% to its all-time high – while
the UK gold price in Pounds per ounce
at £1648 marked a fresh record, as did the gold price in Japanese Yen, Australian Dollars, Indian Rupees and Chinese Yuan.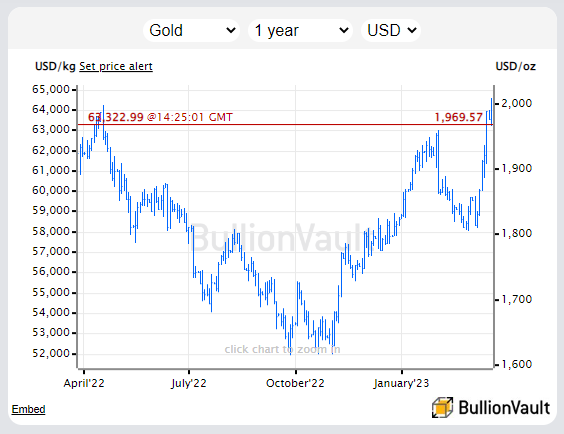 UBS on Sunday agreed to buy Credit Suisse for $3.25 billion, a massive discount to Friday's closing share price, after a frantic weekend of negotiations brokered by Swiss authorities also saw the US Fed, European Central Bank, Swiss National Bank, and the Banks of England, Canada and Japan launch
a coordinated injection of Dollar liquidity
, offered at daily auctions, to commercial banks in their jurisdictions.
Operations will start today and continue at least through the end of April, said the Fed – now expected to rise its key overnight interest rate by
just 0.25 points at this Wednesday's policy meeting
before slashing rates towards 4% by the end of the year.
"I'm just not sure whether this shotgun UBS/CS wedding can forestall further financial market contagion," said Nicky Shiels, head of metals strategy at Swiss refining and finance group MKS Pamp, following Sunday's announcement.
"Reassurances, like this complicated tie-up,
are dangerous
. It can allay fears or just confirm/accelerate them."
European banking shares initially slumped over 5% at the opening, with Credit Suisse's own shares (SWX: CSGN) down more than 63% from Friday's close to match the price being paid by its acquirer UBS (SWX: UBSG), whose own stock dropped nearly 13%.
German banking giants Deutsche Bank (ETR: DBK) dropped 3.1% and France's BNP Paribas (EPA: BNP) fell 3.7% while the broader European Stoxx 600 index fell 1.6% before staging a recovery ahead of the start of New York trade.
Under the UBS deal, and
pushed through by Swiss regulators
FINMA, Credit Suisse shareholders will retain some value but bonds with a notional value of $17 billion will be written off, wiping out lenders in its "Additional Tier 1" debt, a form of contingent convertible bonds created after the global financial crisis to save taxpayers from bearing the cost of rescuing failed banks.
"Common equity instruments are the first ones to absorb losses," asserted European bank supervisors in a statement Monday morning as AT1 prices sank across the region. "Only [then] would Additional Tier One be required to be written down...[an]
approach consistently applied
in past cases."
US bank First Republic – down 72% in the stock market last week – meantime saw its credit ratings downgraded deeper into junk status by S&P Global on Sunday despite last week's
$30bn in deposits
from a group of major US institutions.
Gold-backed investment trust-fund products saw only light inflows last week until Friday, when the quantity of bullion needed to back those
gold ETF shares
as a group jumped at
the fastest 1-day pace
since the Russian invasion of Ukraine hit financial markets 12 months ago.