Gold Prices Jump Above $1900 as SVB Bail-Out Fails to Stem Banking Panic
Monday, 3/13/2023 14:56
GOLD PRICES jumped above $1900 on Monday, erasing the last of February's drop from 9-month highs, as global banking shares plunged yet again despite the US government moving late Sunday to guarantee all deposits at the failed Silicon Valley Bank as well as at crypto-sector bank Signature, write Atsuko Whitehouse and Adrian Ash at BullionVault.
"Depositors will have access to all of their money starting Monday, March 13," said
the joint statement
from the Treasury, Federal Reserve, and Federal Deposit Insurance Corporation about the biggest US bank failure and bailout
since Washington Mutual in 2008
.
"No losses associated with the resolution of Silicon Valley Bank will be borne by the taxpayer."
Having jumped Friday despite solid US jobs figures for February, spot gold prices today climbed 2.6% to $1911 per ounce, the highest since last month's release of
blow-out US job data
for January sent expectations for further hikes to Federal Reserve interest rates soaring, while bank stocks across Asia, Europe and the US resumed the steep falls begun last week
as SVB's share price crashed
.
Government bond prices also jumped Monday, pushing longer-term interest rates down to the lowest in a month.
The Dollar slipped on the FX market, meaning that gold priced in other currencies rose less sharply. But the Euro gold price still jumped by 1.4% to €1780 per ounce while
the UK gold price in Pounds per ounce
reached £1575, also nearing the top of January's spike.
"There is
a sense of contagion
and where we see a repricing around financials is leading to a repricing across markets," said one analyst to Reuters.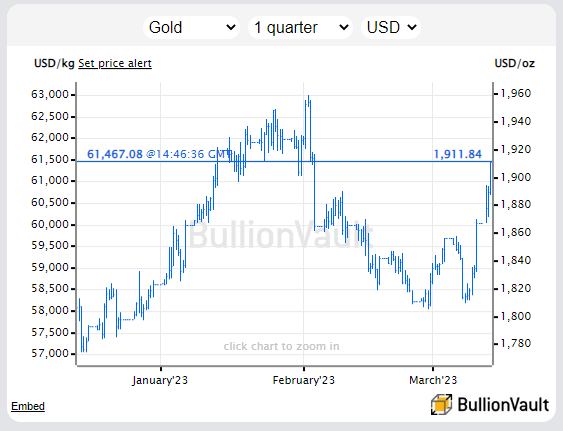 Shares in No.1 US bank Citigroup (NYSE: C) sank by 6.0% at the opening, erasing the last of 2023's previous 15% gains, while European banking stocks as a group dropped by 5.7%, on course for their worst 2-day sell-off since the start of Russia's invasion of Ukraine 12 months ago.
"HSBC is Europe's largest bank, and SVB UK customers should feel reassured by the strength, safety and security that brings them," Britain's finance minister Jeremy Hunt said, also
vowing that no taxpayer funds
are involved.
Shares in Swiss giant Credit Suisse (SWX: CSGN) sank by 13.1% to new all-time lows – and the cost for bondholders of insuring the value of the bank's debt jumped to new record highs – as its latest annual report continued to be delayed following what it termed
"a call" from US regulators
the Securities and Exchange Commission.
"To support American businesses and households...the Federal Reserve is prepared to
address any liquidity pressures
that may arise," said the US central bank Sunday, adding to its joint rescue of SVB depositors by offering new 12-month loans to eligible institutions through its new 'Bank Term Funding Program'.
To qualify for these funds, a bank may post US Treasury bonds, agency debt or mortgage-backed securities as collateral –
all "valued at par"
rather than at their currently beaten-down market price.
"Despite the Sunday [bail-out] announcement from the US authorities, gold will likely benefit from continued worries about the financial system, increased recession worries and a swap market now pricing in just one rate hike ahead of a December cut," said derivatives platform Saxo Bank's commodity strategy team in the latest note.
More than 1-in-5 bets on March interest-rate futures suddenly agrees,
data from the CME
derivative exchange's FedWatch tool says, up from zero on Friday with traders suddenly pricing no chance of a half-point hike – priced as a 3-in-4 chance as recently as Thursday.