China Gold Price Hits 7th New Record in 10 Days as SSE Earnings Slump
Tuesday, 9/12/2023 15:21
CHINA GOLD prices set a fresh all-time high on Tuesday, the 7th new record in 10 trading days, but Dollar quotes for London bullion dropped near 3-week lows as financial traders bet that the Federal Reserve will keep US interest rates higher for longer while the Chinese authorities struggle with a deepening economic slowdown.
The world's 2nd largest economy, as well as the No.1 gold consumer and central-bank buyer, China saw the gold price in Shanghai fix at ¥468.62 per gram this afternoon.
That's more than 2.9% higher from this time last month, when the People's Bank
made a surprise cut to Chinese interest rates
as the country's economic data worsened amid the real-estate sector's ongoing debt repayment troubles.
With the Yuan edging back from
Monday's sudden rally
on the FX market, today's new record China gold price put Shanghai's Dollar-equivalent rate at $1999 per Troy ounce, a record $79 above global quotes for London settlement.
Known as the 'Shanghai premium' – an incentive for new imports of bullion, out of the precious metal's key trading and storage hub and into its No.1 consumer nation – this gap between London and China prices has averaged $6.50 per ounce over the last 3 years.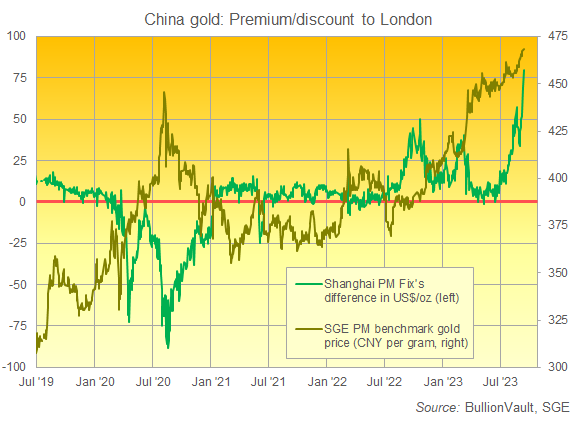 As the Shanghai gold price rose 0.6% from the all-time high set just 1 week ago, the Shanghai and Shenzhen stock market today saw its recent rally stall, slipping back after rebounding 2.4% from late-August's new 2023 lows on the SSE Composite share index.
"The bulk of the selling pressure [in Chinese equities] has passed its strongest point," reckons Asian brokerage CLSA, "because most [investors]
are already underweight
."
But after the 5,000 companies traded on the SSE saw their corporate profits drop 9.6% per year on average between April and June, according to Haitong Securities, more than 75% of them have now cut their full-year 2023 outlook further, says analysis from Bank of America.
Gold traded in London meantime fell sharply Tuesday afternoon, dropping towards 3-week lows beneath $1910 per Troy ounce as the Dollar resumed its 3-month long uptrend against the rest of the world's major currencies.
Having forecast a year-end Fed Funds rate of 5.0% at the start of June,
trading in CME derivatives
now sees no cut from today's ceiling of 5.5% until the middle of 2024.
Euro gold fell harder, touching 2-week lows close to €1781 per ounce, despite economic sentiment across the 20-nation currency area worsening in September on the ZEW survey, while consumer-price inflation in the region's 4th largest economy
Spain showed a 3-month high
of 2.6% per year for August.
US
consumer-price inflation
for August, due for release Wednesday, is expected to show a rise to 3-month highs of 3.6% per year.
The European Central Bank is expected to keep its overnight deposit rate at 3.75% per year.
Back in China, giant property developer Country Garden today
got creditor approval to delay
6 bond repayments by 3 years, the South China Morning Post reports, allowing the "debt-saddled developer to breathe again" after it won a delay on repaying overseas debts last week.
Last month's small retreat in Chinese gold prices – buoyed by the central bank restricting supply by
issuing fewer gold import licenses
and so driving the Shanghai premium to these new record levels – meant that "deferred purchases from Q2 and robust gifting demand around Chinese Valentine's Day...fuelled gold jewellery consumption," says a note from bullion-market analysts Metals Focus.
With the consultancy expecting lower gold prices towards the end of 2023, "The chief upside risk centres on how lower gold prices stimulate bargain hunting for jewellery,"
Metals Focus
says, "especially those with quasi-investment qualities.
"On the downside, the lacklustre Chinese economy and deteriorating consumer sentiment may further undermine domestic sales."