Gold Mine Exploration Jumps But 2018 Output to Fall
Tuesday, 12/19/2017 18:35
2nd annual fall expected in 2018 as No.1 China shrinks 10%...
GOLD MINE exploration has leapt in 2017, but output is set to slip further from last year's record as the focus on existing sites intensifies over finding new projects, according to leading analysts.
Accounting for over half of all non-ferrous metals exploration budgets worldwide, total gold exploration spending rose 22% this year, says the latest update from SNL Metals & Mining, part of the S&P Global data and research group.
That took it to the largest level since 2014 at just over US$4 billion.
So-called "mine-site" exploration however – where geologists look for extra resources at or near to old or current projects – accounted for 42% of that spending, the highest ever percentage on SNL's series.
Grass-roots exploration to find new, untapped
gold mining
deposits rose 19% to just below $1bn on SNL's figures.
Gold mine output from China – the single largest producer-nation since 2006 – meantime fell 10% over the first 9 months of this year according to government-body the China Gold Association.
That offset gains elsewhere to keep global mine output flat from the same period in 2016 according to analysis by data and news group Thomson Reuters' GFMS team.
"Gold mine
supply retreated this year
in the wake of lower investment and rising costs," says the October 2017
Commodities Outlook
from international body the World Bank.
Global gold mine output will decline for a second year running in 2018, reckon specialist analysts Metals Focus in their latest Precious Metals Investment Focus.
It forecasts that with recycled flows from scrap jewelry also slipping, this will lead to a 2.7% drop in total supply between 2016 and 2018, while global demand (excluding ETF trust fund and other institutional investment) grows 2.9%.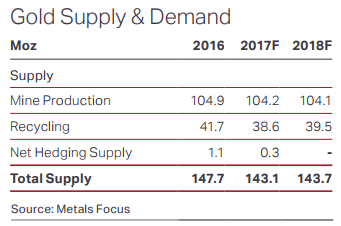 "We expect [gold mine] supply to tighten in 2018 and 2019 as a result of lower capex in recent years," says a separate report from Scotia Mocatta, the bullion bank division of Canada's Scotiabank, pointing to the sharp cuts to capital expenditures made as gold's annual average price fell by one-third between 2012 and 2015.
"We are bullish on the prospects for demand to improve," Scotia adds, raising its target for
gold bullion prices
to hit a 2018 peak of $1390 per ounce.
After 4 years of "austerity" for gold mine investment, says the latest quarterly analysis from Metals Focus, "the green shoots of recovery continued in Q3 2017, with both exploration and development expenditure rising."
But while "improved market sentiment over the past 18 months seems to have slowed the decline in grassroots' share of budgets," said S&P's associate director of research for metals and mining Mark Ferguson earlier this autumn, "another year of increase in the mine site share reflects...a persisting climate of risk aversion" among mining companies.
This week saw junior Canadian miner Skeena Resources (TSX.V:SKE)
buy an option to acquire
the former top-grade Eskay Creek gold mine from world No.1 producer Barrick Gold (NYSE:ABX).
First explored in the 1930s, the site in northwest British Colombia was mined from 1994 to 2008, producing over 100 tonnes of gold and briefly becoming the world's fifth largest silver-mining project.
Barrick retains an interest in Eskay Creek, notes Mining.com, with the right to buy back 51% of the property if Skeena finds 50 tonnes of gold or more.