Gold, Mithras and Killing the Bull in 2018
Wednesday, 12/20/2017 18:15
Forget gold! 2018 investment forecasts love stocks...
The NEW European HQ of financial data and news-giant Bloomberg in London really is something, writes Adrian Ash at BullionVault.
Amazing views...even more amazing decor and furnishings...
...and a genuine Roman temple in the basement!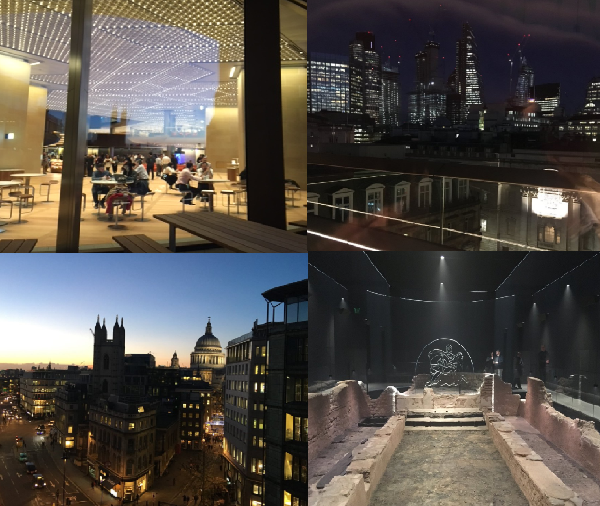 Free to visit, the
Temple of Mithras
is worth a quick stop if you're near Cannon Street in the City of London, and if old stones are your thing.
These ancient stones are silent however (well, apart from the Latin chanting played over Bloomberg's mist and light show). Scholars really don't know how the cult of Mithras worked.
Born sometime in the first century AD, the cult was extinct by the time Rome fell in the 5th Century. Yet from Syria to Britain,
more than 200 temples linked to Mithras
have been found across the empire.
Each one features a picture or statue of the young god, usually sporting a snazzy hat, maybe to
show his Persian roots
. Perhaps the word 'Mithra' came from a near-eastern language's word for "contract". Perhaps the cult was more social than religious, an insider's club for officers and merchants wanting a secret handshake to boost their careers.
And perhaps it was some kind of fertility or good-luck cult. Because the key images which archaeologists have found
always show Mithras slitting the throat
of a full-grown bull. Other images then show him sitting down to share his feast with the Sun.
So, something to do with death, dawn and plenty seems likely. Maybe the bull had to die for the cycle to keep running.
But how savage and silly that old idea seems today! Just ask Bloomberg's own customers across the financial world:
"2018 will likely to see sustained economic growth and good, albeit more limited returns," intone the soothsayers at Credit Suisse.
"We think equity markets will be carried to [yet more] new highs," chant the investment-bank gurus at
Goldman Sachs
.
"A synchronized global expansion has room to run in 2018," forecast the high priests at asset-management giant
Blackrock
.
"Investors will get compensated for risk-taking in equities."
Yes, the consensus now forecasts that the 9-year bull market in equities will keep running in 2018.
But the fatter this bull grows, the more investors risk getting trampled or crushed.
"Headwinds are present," warn a couple of today's financial forecasts.
"Geopolitical risks, inflation and other factors could make the road ahead more challenging," whispers another.
Most acutely, "This is not a great starting point" for buying shares, reveals J.P.Morgan. "The very length and strength of the bull markets will limit returns going forward.
"This makes it critical that investors control their enthusiasm for the most expensive assets."
US equities, for instance, have rarely been more expensive in terms of earnings per share. Fine art and real estate just keep pushing higher. And the betting in Bitcoin has become a frenzy.
Gold of course looks like a cult to many financial pundits, an ancient mystery long since debunked by investment science and now bits of computer code promoted as money. The modern mind in fact began killing gold's role in the monetary system almost a century ago. Great Britain abandoned the Gold Standard in 1931, booking its way out of a Great Depression brought on by slavishly praying to the Pound's pre-WWI exchange rate against the metal. The rest of the world followed, with only the United States honoring the dead god of gold until it finally cut the Dollar free
forty years later
.
By the end of the 20th Century, "Who needs gold when you've got Alan Greenspan?" the
New York Times
asked, honoring the
new gods of central banking
.
You needn't feel as old as the stones in Bloomberg's basement to remember what happened next. But 10 years after the financial crisis ripped across the world, "Diversification gets a bad wrap for not 'working'," as J.P.Morgan's 2018 outlook says, because "when one part of the market is roaring ahead" that leaves a diversified portfolio "to lag behind."
Our
40-year table of annual asset returns
confirms this. Gold tends to do badly when other, more risky assets do well, and it tends to rise when other things fall. So added to a diversified portfolio of stocks and bonds, it has
helped reduce risk overall
, at the cost of a small drop in performance compared to out-and-out stock market holders.
For many soothsayers in modern finance, that means gold has no value or uses at all. Indeed, gold has fallen in price for UK and Eurozone investors as equities rose and Bitcoin went to the moon in 2017. Amongst the major Western nations, only Germany has seen a rise in the number of first-time
BullionVault
users this year.
"But overall and over time," J.P.Morgan says, "diversification works and is a winning strategy for long-run investors."
We couldn't put it better ourselves, so we won't. But we do also think old Mithras might show more wisdom than today's perma-bull investors and analysts. Especially so long into such a strong upwards run for risk assets.
Some investors have forgotten that the cycle must turn. And who needs insurance when risk assets only ever go up?
Something to ponder, perhaps, as the light fades on 2017 and you put on your paper crown for the ceremony of mid-winter feasting.