Food, Fuel, Jobs Crisis, USA
Friday, 11/26/2021 09:01
Inflation, wages, energy, fertilizer...
HERE in Laramie, Wyoming, down by the railroad tracks as the Union Pacific rolls by, you can tell that the bars on 1st Street have been talking to each other, reports Dan Denning for Rogue Economics.
Born in a Barn is closed on Tuesdays. Lovejoy's Bar and Grille is closed on Wednesdays. The Front Street Bar is closed on Thursdays. And on the corner of Garfield and 2nd Street, the Altitude Chophouse and Grill is closed on Sundays. Nobody is closed on Fridays, since this is a college town (the University of Wyoming).
Maybe it's always been this way in Laramie. It's my first fall here. It's not a big city. And you'd think there'd be plenty of college kids looking to flip burgers, wash dishes, or pour beers.
But all the bars are hiring. And most of them are closed at least one day a week.
What would Federal Reserve Chairman Jerome Powell think? Powell and his cronies on the Fed's Open Market Committee (FOMC) admitted earlier this month that inflation is likely to "exceed 2% for some time."
Their own preferred measure of inflation, the Personal Consumption Expenditures index, is running at a 30-year high of 4.4%. And their own index of consumer price inflation is up 6.2% in the last 12 months.
But the worst is to come. Check out the chart below of the Labor Force Participation Rate from the 1940s to date...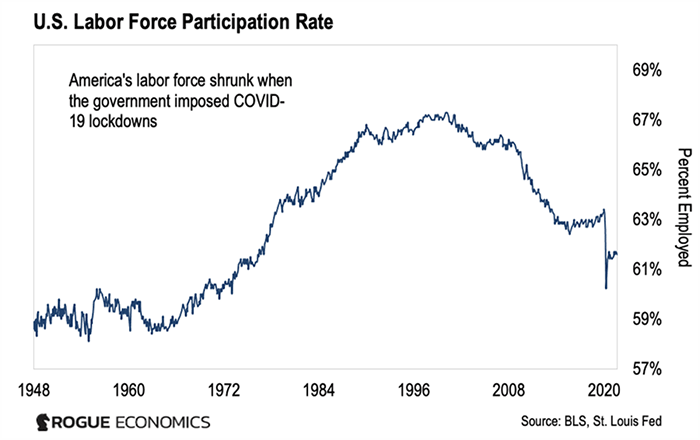 Look for rising wages to drive an increase in the velocity of money (how fast money moves through the economy) and inflation in 2022.
It hasn't happened yet – the rising wages part, anyway. That's because the labor force shrunk massively when the government shut down the economy in response to the pandemic. The chart above shows that the labor force participation rate is at about the same level it was in the mid-1970s.
That's why Laramie's restaurants are closed one day a week. That's why fast-food joints are offering starting jobs at $15/hour. That's why the Pizza Hut on 3rd Street is offering to pay employees after their shift, rather than on a regular pay period. The price of labor is going up.
Unit labor costs (how much money a business pays an employee to produce one unit of product) increased at an annualized rate of 8.3% in the third quarter, according to the Bureau of Labor Statistics (BLS).
Those costs are a combination of hourly wages and productivity. BLS reports that hourly compensation grew by 2.9% during the period. Productivity fell by 5%.
That drop in productivity was the biggest since the third quarter of 1981. The conventional wisdom is that it's pandemic related. Employees – the ones bothering to show up – are tired, lethargic, or over-worked. Once more people get back into the workplace, productivity will rebound.
But what if it doesn't? What if the pandemic accelerates automation in all sectors of the economy? Then you'll have the worst of both worlds: rising wages in retail and service jobs, with an overall decline in labor force participation due to automation. Entry level jobs will be plentiful. High-paying ones...not so much.
All of this is complicated by the fact that the Biden Administration, through the Occupational Health and Safety Administration (OSHA), made public its plans for the mandatory vaccination of 100 million Americans, beginning January 4, 2022. You can go read the fine print, if you're so inclined. It's ugly.
Companies with more than 100 workers must ensure that their employees are either fully vaccinated against Covid-19 or are tested weekly. Employers don't have to pay for testing, but they must give workers time off for it and provide sick leave if employees suffer any side effects from the vaccine. If you choose not to get vaccinated, you have to wear a mask at work.
The Biden Administration says OSHA has the authority to impose an Emergency Temporary Standard (EST) on employers because the virus puts employees in "grave danger". That will be challenged in court.
In the meantime, the Administration hopes that employers – faced with a minimum fine of $13,000 for non-compliance and a maximum fine of $136,532 for "willful" no-compliance – will enforce the mandate, even if it is later ruled illegal by courts.
If you want wage inflation in 2022, there's no better solution than watching millions of Americans walk off the job rather than be compelled to inject something into their body without informed consent. It's a huge authoritarian overreach by Biden and OSHA.
And you can imagine that making the EST permanent is just a matter of time, if the courts don't overturn it.
Now, let's move on to the biggest news in American economic policy: Earlier this month, Jerome Powell and the Fed announced a taper in its "emergency" bond-buying program, which primed the pump for inflation with their huge balance sheet expansion.
The plan is to cut its purchases to a paltry $15 billion a month until next June, with no expected rise in interest rates – although this doesn't do anything to reduce inflation or inflation expectations.
The bottom line: Wage inflation and a higher velocity of money is coming.
Inflation is already evident in groceries and gas prices. World food prices are at their highest real level since 2011, according to the United National Food and Agricultural Organization Food Price Index (see chart below).
And when I say real, I mean these prices are already adjusted for inflation. The next stop on the index was the spike in food prices during the Oil Shock in 1974-5. That's not a coincidence.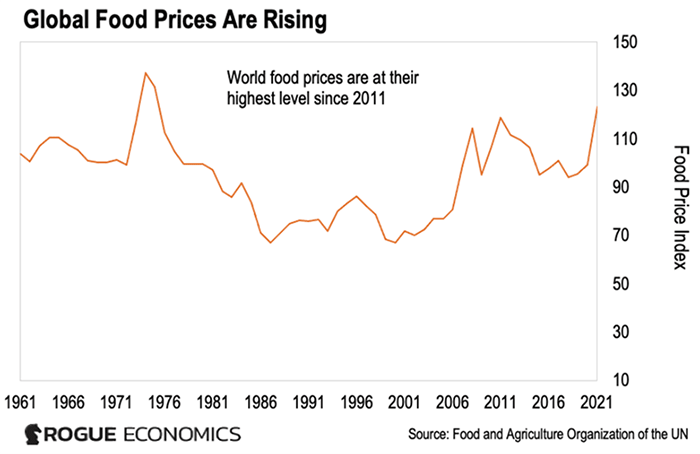 It takes fertilizer to make food (to grow crops and to grow grains to feed livestock). It takes energy to make fertilizer. And energy prices are rising...making the cost of food production more expensive.
Despite all the rigamarole at the recent UN Climate Change Conference (COP26) in Scotland about phasing out fossil fuels and getting to net-zero emissions by 2050, you're still going to need oil and gas to feed people.
A jarring statement out the conference comes from Svein Tore Holsether, CEO of Norwegian fertilizer company Yara International:
"I'm afraid we're going to have a food crisis. I want to say this loud and clear right now that we risk a very low crop in the next harvest."
You might normally chalk that sort of comment up to climate alarmism. But the data and the science don't lie on this one.
Cheap energy and abundant food go hand-in-hand. When energy isn't cheap, food gets both more expensive and less abundant.
Most Americans see this in rising prices for beef, poultry, milk, and other staples. It hasn't resulted in shortages or scarcity or empty shelves, yet.
In fact, I just signed up for Walmart grocery delivery here in Laramie. I can order fresh produce, beef, and canned goods and have them sent straight to my doorstep. That's hardly a sign of a food emergency or a supply-chain disruption.
My advice? Avoid the Thanksgiving rush and do your panic winter shopping now. Rice, pasta, canned goods, even canned fruit – get them now while you can...and while they're still relatively cheap.
I hope there's not a full-blown emergency (natural or man-made). But I'll be ready for one if it comes. So should you.