Korea Nuclear Crisis? Investors Sell, Not Buy Gold
Tuesday, 9/05/2017 10:34
Private investors sell, don't buy gold, as price jumps on Trump-Kim tensions...
CONTRARY to some headlines, Trump's North Korean missile stand-off has yet to spur any surge in private-investor demand to buy physical gold, writes Adrian Ash at BullionVault.
Quite the reverse, in fact. Gold Eagle coin sales by the US Mint almost halved in August from July, as did sales of its silver bullion coins. Australia's Perth Mint also sold less gold in August, while its monthly silver sales hit a 1-year low.
Most dramatically, the number of people choosing to sell gold on the world's largest physical metals exchange online almost doubled as prices jumped last month. As a group, they sold almost one-third of a tonne (328kg) via BullionVault, even amid the growing global tensions over North Korea's missile tests and the
surge in gold-backed ETF trust fund vehicles
and hot-money betting on Comex futures and options it apparently sparked.
That nearly reversed the net inflows of a month before (361kg) when BullionVault users as a group grew their aggregate holdings to
a new all-time record
above 38.1 tonnes.
Indeed, August's profit-taking saw a new record order made and matched via
BullionVault's free gold-trading mobile apps
, with a client using an iPhone to sell just over 1,000 ounces of gold (31.5 kg) vaulted in Zurich for $1.3m (£1.0m, €1.1m) on the metal's first break above $1300 per ounce since last November's US elections.
July's price drop had
seen the fewest number of sellers
on BullionVault since December 2015 marked the lowest US Dollar and British Pound gold prices in almost 6 years. But while gold priced in Euros then added only 1.2% in August, it rose 3.7% and 4.0% for US and UK investors respectively on a month average basis – the fastest pace of gains since July 2016 versus the Dollar and since January 2017 versus the Pound, reaching 11-month and 4-month highs respectively.
Gold's price surge saw the number of people starting or adding to their personal gold holdings slide 13.2% across the month, while the number of gold sellers almost doubled, jumping 92.6%.
Together that pushed the Gold Investor Index – a unique measure of private investor buying and selling action in physical bullion – down to 51.6 from a level of 55.1 in July. The index would read 50.0 if the number of net buyers and sellers across the month were equal.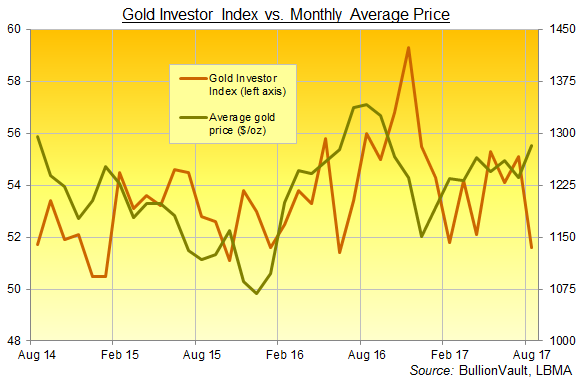 Against this active (and profitable) trading however, the underlying trend remains one of growing interest in gold.
The number of private investors using BullionVault continues to set new records, now above 68,500. Last month's small gold sales also came from July's fresh all-time record high holdings. And rising 18.3% from July, the number of first-time users last month reached its highest level since January.
New interest was still 8.2% below August last year however, and stood 36.1% below the 3-year record of June 2016, when the UK's shock Brexit referendum spurred a surge in new interest amid sharp drops in world stock markets.
Silver's price jump
in August meantime found the fewest buyers on BullionVault since October 2015, down 30.8% from July and 35.0% smaller than the 12-month average.
The number of sellers jumped 72.1% to the larget number since April, led by US and UK investors – for whom the month average silver price rose 4.7% and 5.0% respectively from July.
Together that pushed the Silver Investor Index down from 55.5 in July to just 50.4 in August, with the number of net sellers very nearly equal to the number of net buyers.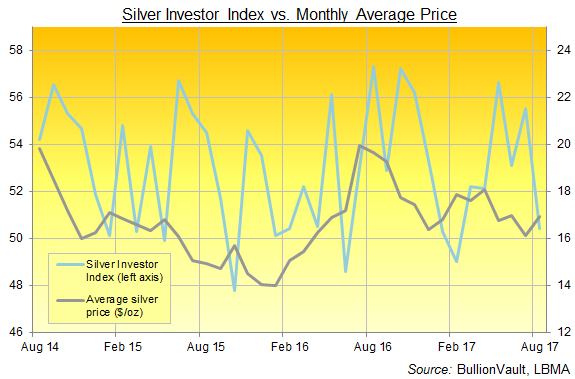 By weight, in contrast, BullionVault users as a group added silver overall for the fourth month running, buying a net 2.5 tonnes and taking total holdings 0.4% higher to a fresh record of more than 689 tonnes.
So again, the underlying trend remains steady accumulation of precious metals. And while physical bullion rarely offers safety from geopolitics, never mind war, its appeal as insurance against losses on other investments continues to grow as the threat of financial fall-out worsens from today's global money bubble.