Gold Bullion Finds Fewest Buyers in 4 Years
Tuesday, 10/03/2023 08:31
Past week's gold price drop stems investor selling...
GOLD BULLION found the fewest buyers in more than 4 years in September, with investors as a group cutting their holdings for the first time since March, writes Adrian Ash at BullionVault, the largest marketplace for private investors to buy and trade physical precious metals.
That came as interest rates on cash continued to rise and strong prices in Euro and UK terms spurred profit-taking. It's taken the past week's near-5% price plunge to stem that profit-taking. New gold investing demand looks unlikely to jump until something breaks in the wider financial markets.
The Gold Investor Index tracks the number of people buying across each month against the number of people choosing to sell. It fell 2.0 points in September to 52.2, the weakest reading in 6 months but rallying last week from an interim reading of 50.7 as
gold prices dropped sharply
.
Even so, the number of people choosing to buy gold fell by 20.2% from the month before, hitting its lowest count since June 2019, while the numbers selling rose by the same proportion.
The
Gold Investor Index
set a decade high of 65.9 in March 2020 as the Covid pandemic and lockdowns crashed the global economy. A reading below 50.0 would signal more gold sellers than buyers among BullionVault users.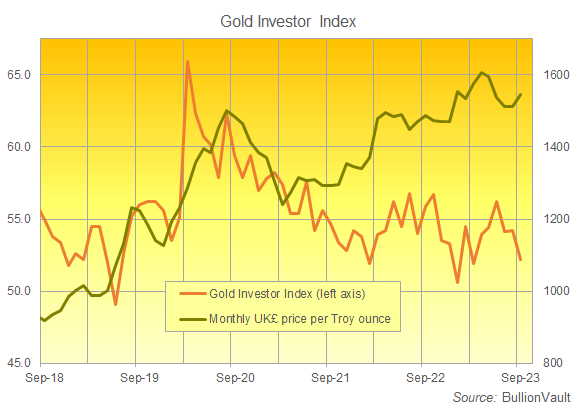 While gold has retreated from the record highs reached on this spring's mini-crisis in US banking, and while prices have fallen hard over the past week, September marked gold's 9th highest monthly average ever in US Dollar terms, the 5th in UK Pounds, and the 3rd highest for Euro investors.
The underlying strength in gold prices, plus rising interest rates on bonds and cash, continues to invite profit-taking among existing holders at the same as deterring new demand. This is likely to remain the picture until interest rates turn lower and/or the damage from today's high borrowing costs – the highest in 2 decades on the US Fed's overnight rate – suddenly becomes plain, spurring a rush for gold as investment insurance once again.
As it is meantime, last month's selling on BullionVault saw investors as a group record their first net outflow of gold by weight since March, trimming 265 kilograms (0.6%) from August's month-end
record gold holdings
– the 3rd all-time high in a row – to reach 47.9 tonnes, the lowest since April.
Private investors also sold more silver in September than they bought as a group, cutting their holdings at BullionVault by 4.2 tonnes (0.3%) to 1,240 tonnes, the smallest in 15 months and 2.1% below last October's
record peak silver holdings
.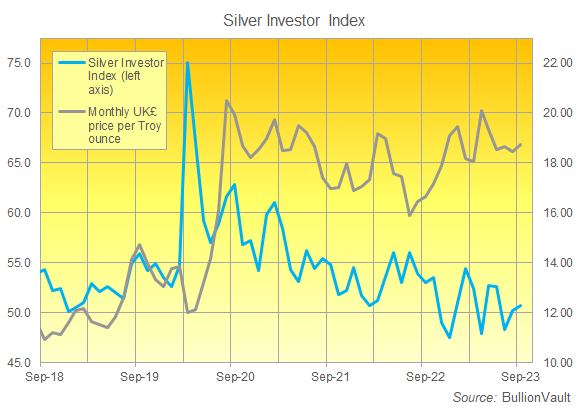 The Silver Investor Index held above 50.0 mark for the second month running in September, edging 0.5 points higher to 50.7 as the number of buyers fell 10.5% towards July's 4.5-year low but the number of sellers also dropped, down 22.9% to the fewest since February.
As with investment gold bullion, the more industrially useful precious metal edged higher for UK and Euro investors, but silver prices failed to spike to multi-month highs as gold did.